Ecuador's Correa forecasts the end of OAS and promotes the Group of Rio
Monday, June 1st 2009 - 13:22 UTC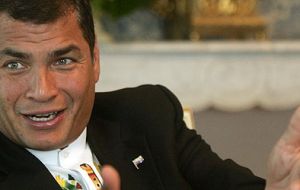 Ecuadorean president Rafael Correa said the Organization of American States, OAS, has "no longer a reason to exist" and forecasted it will be replaced by the Group of Rio, arguing it was time that Latinamerican issues ceased to be discussed in Washington.
"It's time we discuss our own affairs, it's not possible that Latinamerican affairs should be discussed in Washington" said Correa currently in Honduras for the OAS two day general assembly which begins this week.
Correa met with his Honduran peer Manuel Zelaya and signed cooperation agreements in tourism and planning, an area where apparently Ecuador has been playing a leading role.
"It's time for a true independence of our region, it's time for a Latinamerica that is a representative democracy", said Correa standing next to Zelaya who then added that the successor of OAS is already almost a fact, "it's the Group of Rio".
Correa and Zelaya condemned the sanctions imposed on Cuba by OAS in 1962, an issue which promises to be at the centre of debates this week at the organization's general assembly.
"All the steps we are taking are to create a big Latinamerican motherland, which our peoples are demanding", said Correa.
Zelaya said Honduras had the shameful task of being the first country to vote for the suspension of Cuba in 1962, "so now we are vindicating that sin by proposing the annulment of sanctions against Havana" in the OAS meeting.
However the presence of Correa in Honduras has had its reactions since Mr Zelaya has proposed calling a national assembly to review the current constitution, which the opposition believes could be an attempt for him to remain in office.
Correa in Ecuador recently finished a very controversial constitutional reform process which handed him a document drafted on his intentions and later confirmed in a referendum, as well as his election as president according to the new rules.
Honduras returned to democracy in 1982 and is still much divided, as much of the area, by the liberal-conservatives on the one side who promote the private sector and lesser government interference and on the other, the Socialists who are mote tempted if not by Cuba or Venezuela, by other pragmatic leaders of the region, such as Lula da Silva from Brazil and Ms Michelle Bachelet from Chile.
Correa from Honduras flew to El Salvador for Monday's taking office ceremony of Socialist president Mauricio Funes.
On Tuesday the OAS assembly officially opens in San Pedro Sule and a police force of 3.000 will be responsible for the safety of the announced 27 Foreign Affairs ministers and at least three presidents.
United States will be represented by Secretary of State Hillary Clinton