April unemployment in the EU soars to 21 million, says Eurostat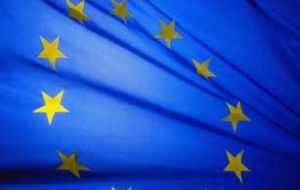 The number of people without jobs is rising across the European Union and has reached 21 million. The EU statistics office, Eurostat, said Tuesday the unemployment rate for the 16 Euro countries soared to 9.2% in April, the highest in a decade.
Eurostat said 3.1 million Europeans have lost their jobs in the euro area since April of last year. The unemployment rate for all 27 EU members is also higher, reaching 8.6% in April.
Spain had the highest unemployment rate in April, at 18.1%, followed by Latvia with a 17.4% unemployment rate. The Netherlands had the lowest unemployment rate in April, at 3% and Austria had the second lowest unemployment rate at 4.2%.
Europe's biggest economy, Germany, had an April unemployment rate of 7.7% up from 7.4% and could increase to double digits warn leading economists. Just last week, a survey measuring confidence in the German economy rose for a second month in a row.
The Munich-based Ifo institute's business climate index showed executives' confidence rose to 84.2 in May, up from 83.7 in April.
Economists consider the index to be an important indicator of the future health of the German economy. It is based on a survey of 7,000 executives. The index reached a 26-year low in March.
Spain in the past year has seen unemployment jump from 10% to 18.1% with four million people out of work and according to the latest activity figures could be falling into deflation.
The Eurostat data office said youth unemployment (under 25) is 36 in Spain, 26 in Sweden, 25 in Hungary, 24 in Ireland and 22 in France and Italy. If this continues for two or three years as most labor economists think likely, it could have serious social consequences.