Chile confirms first A/H1N1 flu death: 37 year man from Puerto Montt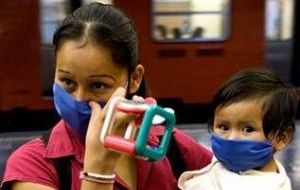 Chile, with a total of over 300 confirmed infections, became the first country in South America to confirm a death of the new influenza virus A/H1N1, the Chilean government said Tuesday.
The dead man, 37, was a plumber from the southern city of Puerto Montt. Treatment for the virus was delayed, Chilean health authorities noted, and he suffered kidney failure and a massive cardio- respiratory arrest.
The first cases of new flu infections in Chile were detected 17 days ago, with the cases of three women who were returning from a holiday in the Dominican Republic.
Chile has more cases confirmed of the disease than any other country in South America.
The plumber's widow Sandra Paredes interviewed by Radio Cooperativa of Santiago said that she also is having flu symptoms and will seek medical attention.
Before the Chilean death was announced, the World Health Organization had put the global death toll from the flu strain at 117.
WHO also said it is closer to declaring the A/H1N1 flu outbreak a pandemic as the infection appears to be taking hold outside North America.
The organization's assistant director-general, Keiji Fukuda, Tuesday said a number of countries appear to be making the transition from travel-related cases to sustained patterns of infection in local communities.
WHO has said previously it needs to see clear evidence of sustained community transmission of the virus from person to person in at least two regions of the world before it raises its alert to the Phase six pandemic stage.
The alert level is currently at Phase five. The organization says 64 countries have officially reported nearly 19,000 flu cases. Fukuda has said a pandemic has nothing to do with the severity of the disease, but rather with its geographic spread.
Most of the A/H1N1 flu cases have been reported in Canada, Mexico and the United States. Mexico has had the most swine flu deaths and is now reporting 103 fatalities.