OAS decision a "great victory", but Cuba will not return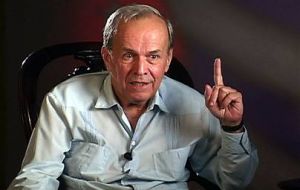 Cuban National Assembly president Ricardo Alarcón said on Thursday that the decision of the Organization of American States (OAS) to lift Cuba's exclusion is a "great victory" for Latinamerica and the island, although he reiterated that the Castro regime will not return to the institution.
"How many times must we say it? What happened yesterday in the OAS doesn't modify our criterion" affirmed Alarcón, who provided the first reaction of a Cuban leader after the decision adopted by the General Assembly of the organization in Honduras.
In his declarations to the press in Havana, the president of the Cuban National Assembly assured that the OAS "betrayed" during decades Latin American interests in favour of the United States. Cuba was expelled from the organization in 1962 for adhering to "Marxism-Leninism," in the midst of US efforts to alienate the island after the triumph of the communist revolution.
"Dozens of chancellors from the continent have resolved what can be called an atavism, a completely anachronistic measure very far from reality. The facts were already under way in Latinamerica by rejecting these dogmas," said the lawmaker while analyzing the OAS decision.
In his press columns published in the last month and a half, former President and leader of the Cuban revolution Fidel Castro presented the OAS time and time again as an instrument of the "imperialist" government of the United States and discarded any return, a stance also shared with his brother, President Raúl Castro.
In the last of his "Reflections," a few hours before the chancellors' decision, Fidel Castro classified the OAS as "accomplice to all the crimes committed against Cuba" and of "the Trojan horse that supported the summits of the Americas, neo-liberalism, drug wars, military bases and economic crisis".
Cuban state television described the OAS decision as "historic", while the official newspaper "Granma" titled Thursday front page "Fidel and the Cuban public have been absolved by history," using declarations made by Honduran President Manuel Zelaya after the General Assembly of the organization.
"Although the United States tried to stop it, the topic of Cuba kept the attention of all the chiefs of State and chancellors assisting the meeting, and Washington had no other option than to abide, finally, by the decision adopted without imposing any conditions," stated the Cuban newspaper.
The press organ of the governing Cuban Communist Party (PCC) also highlighted the intervention of the President of Nicaragua, Daniel Ortega, whom expressed that the next step should be "the elimination on behalf of the United States of the embargo imposed on the island for over half a century".