New Chilean domestic airline takes off June 18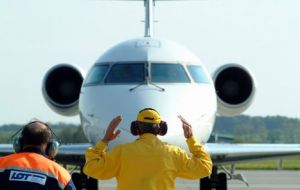 Principal Airlines' (PAL) imminent domestic service between Santiago, Antofagasta, and Iquique has officially received flight authorization from the Chilean Civil Aviation Authority.
Owned by the Musiet family, which was in charge of National Airlines between 1992 and 1998, the airlines' first domestic passenger flight as a national carrier is scheduled for June 18.
PAL has operated as a private carrier since September 2003, offering domestic and international charter flights, including Chile's national football team's flight to Paraguay for their World Cup qualifier game.
The new routing has been established to complement rather than replace lucrative charter flights, as sales reached 13 million US dollars last year.
Despite the economic crisis and swine flu outbreak, PAL General Manager Carlos Musiet believes that the national market favors the carrier's operation of a regular domestic route.
Especially, he said, when taking into consideration Air Comet's recent bankruptcy, cheaper fuel prices and steady increases in domestic air traffic.
Musiet said that instead of initiating a "price war" with its rivals - LAN and Sky airlines - PAL seeks to carve out a specialized market in the North and focus on the provision of both on-board and airport service.
According to Musiet, PAL's northern route reflects the positive dynamic of the local market. While April air traffic levels were up 2.9%, the northern route witnessed a 10 to 12% increase, validating PAL's decision to adopt a regional focus.
The fleet is currently composed of two Boeing 737-200 aircraft, a carrier which is being phased out in several countries - and by rival LAN last year - due to poor fuel efficiency, high noise emissions, and escalating maintenance costs.
Prices for the Santiago–Antofagasta-Iquique connection will start at roughly 50 US dollars one-way and can be purchased at local PAL offices in the respective cities.
The route is predicted to service 120,000 passengers annually. PAL's management is not ruling out future expansion and is intending to re-evaluate potential destinations in six months time.
By Antonia Wynne-Hughes - Santiago Times