Peruvian minister resigns over killings in clashes with Indians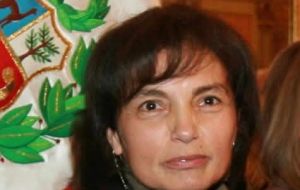 Carmen Vildoso, Peru's Minister of Woman's Affairs and Social Development, submitted her resignation from the cabinet late Monday on discrepancies over how the government managed the unrest of indigenous peoples in northern Peru that left at least sixty dead and dozens wounded.
This is the first resignation and political consequence from the cabinet of President Alan Garcia following violent clashes over the weekend after security forces cleared a highway in northern Peru blocked by indigenous groups protesting the opening of the Amazon region to logging, oil and minerals exploration.
Meantime indigenous leader Alberto Pizango, wanted on charges of "sedition" for allegedly fomenting protests in the Amazonas region was granted political asylum by the government of Nicaragua.
Nicaragua's ambassador in Peru, Tomás Borge said on Tuesday that Pizango sought asylum in the Nicaraguan Embassy in the Peruvian capital.
"We ask for the understanding of the Peruvian government and a few moments ago I rang to reiterate (to Pizango) that we have given him asylum," Borge said, adding that Nicaragua would ask for his safe passage out of Peru.
Opposition members of Congress have called for other members of the cabinet to resign following the clashes on the highway and at an oil pipeline pumping station that left 23 policemen dead when indigenous groups reacted with spears and rocks. The government says nine Indians died in the attacks but native groups say at least 30 natives died.
Opposition member of Congress Keiko Fujimori on Monday on Prime Minister Yehude Simon to step aside, saying that he was responsible for the failed negotiations with the Indians that took place before the clashes.
Simon has ruled out resigning, however. "I expect to be able to solve this problem and have calmness return to the Amazon region" he said, according to government news agency Andina. Both Simon and Vildoso entered the cabinet last October.
Indigenous groups have been blocking main highways and oil pipelines in Amazonas for over two months, while they pressed the government to roll back legislative decrees that regulate resource development in the region.
The Peruvian Catholic Church has sided with the peaceful claims of the indigenous groups in Amazonas who claim they were never consulted on the central government's intention to parcel out land for natural resources exploitation.
The Inter American Human Rights Commission, a branch from the Organization of American States, OAS, "energetically" condemned "the serious violence incidents" and called on the Peruvian government to have the courts investigate, and promote a "dialogue process" to find a peaceful solution to the conflict.