HMS Manchester sailors "dump" McDonald statue in Valparaiso harbour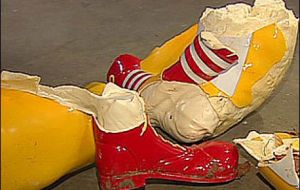 Two Royal Navy sailors from HMS Manchester have appeared in court in Chile for stealing a life-size statue from a McDonald's restaurant.
A judge at the court in Valparaiso fined the pair £350 for damage to a plastic figure of Ronald McDonald, said a Ministry of Defence (MoD) spokesman.
The Type 42 destroyer HMS Manchester had arrived in the Chilean port on Monday and the sailors were arrested later that day.
The MoD said: "As far as I am aware they threw the statue in the harbour."
The spokesman added: "The sailors in question are now back on board HMS Manchester. They have formally apologised to McDonald's for the incident".
"The Navy does not condone unlawful activity."
HMS Manchester is currently in Chile participating of Exercise "Teamwork South 2009" with the French, Brazilian and Chilean Navies. The Royal Navy received a specific invitation from Chilean Navy's Commander in Chief, Admiral Rodolfo Codina.
Until Monday the crew had been on an eight-week patrol in the South Atlantic and is due to return to the UK in August.
When in the UK the ship is based in Portsmouth, where many of the crew lives.
A source in Chile told BBC News: "The story has had considerable coverage here in Chile, being featured on local television and radio.
"Most Chileans have laughed at the pair's antics."
The vessel, which is the third to carry the City of Manchester name and coat of arms on its funnel, had been in service since 1980. In 2006 the crew of HMS Manchester was given the honour of the freedom of Mancheste