British MPs four-year expenses database made public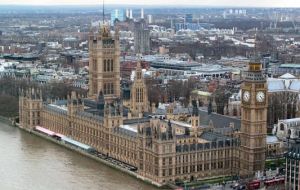 The expenses claims of every British Member of Parliament over the past four years have been published, after a string of scandals. Commons authorities say the database, which was due to be made public in July were posted online on Thursday.
Certain information, including MPs' addresses and correspondence with officials, has been removed on privacy and security grounds.
However, much of that uncensored detail was leaked to the Daily Telegraph, leading to a slew of resignations.
Treasury Minister Kitty Ussher became the latest casualty of the expenses affair on Wednesday. She stepped down amid reports that she had changed the designation of her constituency home to avoid capital gains tax.
Ms Ussher said she acted within the rules and was quitting to prevent the government from further embarrassment amid the ongoing public anger over expenses.
The BBC's political editor Nick Robinson said the specifics of home designations were among the details that would be excluded from the records being published on Thursday.
Indeed, if that database was all the public could see and the full uncensored claims had not been leaked to the Telegraph, then MPs like Miss Ussher would still be in their jobs, our correspondent added.
Nearly a dozen MPs have been forced to stand down since the furore over expenses began and many have had to repay money, with more than £300,000 having been repaid.
A spokesman for the House of Commons said steps were being taken to prevent the site from crashing under the weight of a massive increase in visitors when the expenses go live. He added: "When it all goes live, we are hoping it's all going to stand up to what we anticipate will be a huge volume of traffic."
Claims made by all 646 MPs since 2004 have been published alphabetically with thousands of receipts made available in a series of PDF files.
The claims are broken down into three categories, with most attention focused on the additional costs or second homes allowance.
The Telegraph's reports revealed the apparent misuse of this allowance - designed to provide for the cost of members having to stay away from their main home on parliamentary business - by some MPs.
Under the rules, MPs had to nominate a primary home, where they spent most time, and a second home for which they could claim for rent, mortgage interest, furnishings and food up to a maximum of more than £23,000 a year.
The Telegraph reported that some MPs had claimed for items that, while within the rules, were questionable.
The paper also highlighted the practice of "flipping" - by which some MPs switched the designation of their homes and claimed allowances for several properties over the four year period.
Last year, the Commons agreed to blank out certain information considered sensitive including MPs' travel patterns, the identity of people making deliveries and providing services to MPs homes, and all communications with the Fees Office.
In recent months, MPs have been able to look at the edited material and suggest further exclusions - with any disputes adjudicated by the Members Allowances Committee.
Other information published on Thursday includes the incidental expenses provision for MPs, which pays for office costs, and the communications allowance.
Details of travel expenses and additional travel costs have already been published.
All the receipts were being prepared for publication in July after Parliament was ordered to release them by the High Court, under the Freedom of Information Act but were brought forward in light of the Telegraph expose.
Labour has referred MPs accused of making questionable claims to an internal disciplinary panel, which has barred five MPs from standing at the next election.
The Tories have asked all its MPs to submit their claims to an internal panel for scrutiny, with a handful of MPs either being forced to stand down or choosing to retire.
The expenses furore has led to interim changes to the second homes allowance while the Committee of Standards in Public Life is currently holding an inquiry into expenses and will recommend changes to allowances rules.
Gordon Brown has said oversight of MPs expenses must be handed over to an external regulator as part of a root and branch reform of Parliament. (BBC).-
Do you want to know where some of the taxpayers money went to? See Parliament link