Aftermath of deadly incidents: Peruvian cabinet submits resignation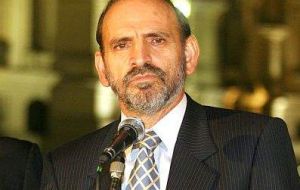 Peruvian Cabinet chief Yehude Simon announced Friday he had submitted his resignation and that of the whole ministerial cabinet to President Alan Garcia, following the political consequences of clashes in the Amazonia province which left at least fifty dead including 24 policemen.
In a letter to Garcia, Prime Minister Yehude Simon and several other Cabinet members who were widely criticized for allowing protests to turn violent two weeks ago offered to resign. The protestors opposed laws that encouraged forestry, mining and petroleum projects which were finally overturned by Congress.
Opposition parties have demanded Simon and Interior Minister Mercedes Cabanillas leave, but they may remain until July 28, when presidents normally reshuffle their Cabinets on Peruvian Independence Day.
"There's such desperation for me to resign that they are encouraging me to remain", said Simon in an interview with the press in Lima. "But no, I've offered my resignation and that of all ministers to President García, and the decision is his".
On a national address President Garcia apologized for the violence, the worst political crisis since he took office in 2006. But he also expressed strong support for the work Simon is doing and the Minister of Interior, responsible for keeping law and order, but has not definitively said if Simon will be retained or will have to leave.
Simon vowed on Tuesday to resign in the coming weeks, but said he wanted to first persuade Congress to repeal two investment laws that sparked protests by indigenous groups, who say the measures will lead to the destruction of their land in the rainforest.
Congress overturned the controversial laws on Thursday, following a request by President Garcia. The repeal could delay foreign investments in the mining and energy sectors and prompt Peru and the United States to reconsider parts of their free-trade deal.
"In this difficult situation, the resignation was presented to the president on ethical grounds," Simon told local radio. "The president has given me his confidence, which he has made public."
Simon together with Cabanillas and Foreign Trade minister Mercedes Araoz will face questioning at a congressional hearing next week over the bloodshed, which shocked the country.
Indigenous groups say dozens of protesters were killed or are missing and have not been accounted for in the government's official tally of the dead.
A commission sponsored by Peru's ombudsman and the Catholic Church are involved in "facilitating" efforts to reach an understanding and agree on a negotiations table, between the indigenous groups and their many chiefs, and the government.