Paraguay hosts global conference to eradicate FMD in poor countries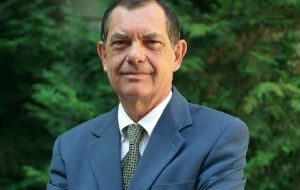 Paraguayan president Fernando Lugo opened Wednesday in Asuncion the world conference on "Foot and Mouth Disease; the way towards global control" organized by FAO and the World Organization for Animal Health, OIE.

Representatives from over a hundred countries, plus Paraguayan economic and animal health officials were present at the ceremony which took off with the announcement that the World Bank and the European Union will be providing funds to help eradicate the disease in poor countries.

"We have with us very important donors such as the World Bank and the European Union that have come to the international conference to see how they can help in this campaign to eradicate FMD globally, because the problem are the poor countries which lack the resources to consider this battle as a priority, and for that they need financial support", said Dr. Bernard Vallat, Director General for the OIE organization based in Paris.

He added this was the first time that "a conference has been organized to tackle the problem and ensure a global commitment to control FMD world wide" and for this purpose over one hundred countries have sent their technical experts to talk about a common global strategy.

Vallat also praised Paraguay for their initiative to host this first global FMD summit.

"When we proposed countries who would like to host the conference, Paraguay was the first to step forward. Furthermore Paraguay is a model because it's not a rich country but has undertaken huge efforts to achieve a favourable sanitary situation and is currently considered as an example for the international community. For these two reasons we have chosen Asunción to hold the conference", said Vallat.

During the three days conference the current situation of FMD in the world will be assessed with specific reference to international, regional and national efforts that are applied to control FMD. The updated control methods of the disease, status of research on FMD, the application of disease surveillance methodologies; the application of and development of vaccines and the use, constraints and availability of diagnostic methods in susceptible species will all be assessed and evaluated against future needs and constraints.

All these aspects will be presented by a selection of internationally recognised experts and debated by heads of veterinary services, veterinarians, scientists, researchers and trade representatives from countries all over the world, according to an official presentation from OIE.

"All existing regional strategies which include regional specificities will be presented by key regional role players. The conditions for funding sub-regional and national programs will be explained by donor representatives".

The deliberations will be concluded by proposing recommendations for adoption by the delegates to mobilise governments, the international veterinary community, donors and all stakeholders to adopt a common commitment to start to move towards the global elimination of FMD from the livestock sector.

The OIE was established in 1924 and has been committed to limit the international spread of important trade sensitive diseases and zoonoses. Together with the FAO, the OIE has considered the ultimate ideal to not only limit international spread of animal diseases but to gradually move towards the eventual eradication of some of the most important and devastating animal diseases.

Diseases, such as foot and mouth disease, do not only inhibit the international trade in animals and animal products, but also have a potential major negative impact on ensuring global food security and alleviation of poverty.

FMD remains an important and priority disease to be considered as a candidate for global eradication from the cloven-hoofed livestock population in the world. In spite of intensive international, regional and national efforts to get ahead of the disease, more than 100 developing countries of the world are not FMD free and thus remain a major inhibiting factor to move towards an ideal of global liberalised trade in animals and animal products, to ensure global food security and better market access for animals and animal products.