Brazil-China bilateral trade in Real and Yuan instead of US dollar
Tuesday, June 30th 2009 - 06:40 UTC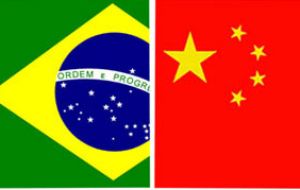 The Brazilian Central Bank announced it had reached an initial understanding with China for the gradual elimination of the US dollar in bilateral trade operations which in 2009 are estimated to reach 40 billion US dollars.
"We have reached an initial understanding and we will begin working on the issue" to use the Real and the Yuan in bilateral trade said a spokesperson for the Brazilian Central Bank.
Brazil's Central bank chairman Henrique Meirelles met Sunday with his Chinese counterpart Zhou Xiaochuan in Switzerland where they are participating in a meeting of the International Bank of Settlements.
However Mr. Meirelles pointed out that there was a difference between using local currencies for bilateral trade operations and deciding on moving towards a new currency which would replace the US dollar.
"For the US dollar to be left aside as an international reserve currency there must be another currency which must perform that role", Meirelles said quoted by the Folha de Sao Paulo. The Brazilian official also anticipated that there are similar discussions with India to replace the US dollar for the Real and the Rupee in bilateral trade.
The announcement follows the first meeting in Beijing between Brazilian and Chinese monetary and financial experts. A schedule of technical meetings was agreed two weeks ago by President Lula da Silva during the BRIC group summit (Brazil, Russia, India and China).
BRIC members are considered the largest and fastest growing developing nations.
China became this year Brazil's main trade partner ahead of the US. Brazilian exports to China in the first quarter of this year jumped 64% compared to the same period a year ago. Brazil sells mainly soy and iron to China and this year those sales soared 70% and 50%.
Oil is also expected to join the list of commodities sold to China once Brazil begins the commercial development of the recently discovered sub-salt hydrocarbons resources. In anticipation of these operations the Chinese government banking system extended Brazil and its government managed oil corporation a 10 billion US dollars loan.
China also announced that it was ruling out any "sudden changes" to its foreign- reserves policy. China is the world's main holder of US federal bonds.
China's currency policy remains "quite stable," central bank Governor Zhou Xiaochuan told reporters, easing concern that emerging-market nations, particularly BRIC may abandon the dollar.
The US currency is expected to strengthen as much as 17% in the second half of the year as North America recovers from recession faster than Europe, according to this year's most accurate foreign-exchange forecasters.