Falklands' unpredictable squid catches paint bleak budget and tough times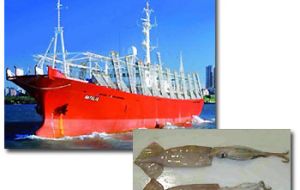 Falkland Islands Treasury officials painted a bleak and arguably inevitable picture of tough times ahead at last week's public meeting on the recently announced Budget.
With a deficit of £ 2 million predicted for 2009-10 in the Medium Term Financial Plan, and recovery into the black not anticipated until 2012-13, illex reared its head as the most significant contributor to the negative forecasts.
The drop in revenue from fishing licences alone is expected to be £2.5 million in the next financial year, by far the biggest hole to be burned into the Budget papers.
And the unpredictability of future squid catches has presented an enormous challenge to FIG economists. Financial Services Manager Simon Wilkie said "volatile and declining" fishing revenue, compounded by recent inflationary pressures and a poor sterling/dollar exchange rate had forced government into an unenviable position.
"We are walking a delicate tightrope," he said. "Basically, to stand still is costing us more."
While a degree of savings is anticipated in coming years – including the possibility of a student loan system being introduced for Higher Education students –the doubt over illex catches remains the biggest headache.
"Illex revenue is really a lottery" Mr Wilkie told Penguin News.
And, he said, such had been the decline in recent years, FIG should allow for the potential disappearance of illex in the future.
"You can ask ten different people and get ten different answers about what's going to happen to illex in the South West Atlantic" Cllr Andrea Clausen told the meeting. "But it's had its heyday. We've budgeted for 38 vessels next year, but will they come? We don't know."
Cllr Clausen also said the Islands Plan – the "road map" for the Falklands – would be one of the casualties of this year's budget.
"A lot of it is aspirational" she said. "And we hope to achieve that. But given the (financial) hits we have had… it will take us a while to catch up.
"It remains there, but we do not have the money for it right now."
Underscoring the need for fiscal frugality for the foreseeable future, Mr Wilkie said "ongoing hard work" was required for the domestic economy to pull itself back into surplus.
"The revenue coming in just doesn't match the expectations," he said. "From a Treasury point of view, we will need to keep tightening efficiencies".