Royal family costs British taxpayer 69p per person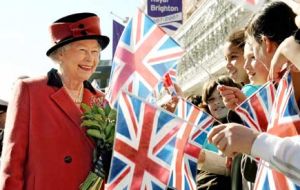 Queen Elizabeth II and the Royal Family cost the British taxpayer 69p per person last year - an increase of 3p, Buckingham Palace accounts have revealed. The total cost of keeping the monarchy increased by £1.5 million to £41.5 million during the 2008-09 financial year.
Palace accounts also showed that the Queen dipped into a reserve fund to boost her Civil List by £6 million. This is the highest amount ever drawn from the reserve which comes from surplus Civil List money accumulated in the 1990s.
The total cost of the Queen's Civil List - which pays for the running of the Royal Household including staff salaries - was £13.9 million in 2008. It was made up of £7.9 million from the Government and £6 million from the reserve.
The boost from the reserve accounted for 43% of the total.
This prompts speculation as to how much the Queen will ask the Government to increase the Civil List by when the current financial deal runs out in December 2010.
If she continues drawing on the reserve at the current rate, she will run out of funds by the start of 2012 - the year of her Diamond Jubilee. The pot of money has gone down from £35 million to £21 million over the last decade.
The current deal - in which the Queen gets £7.9 million a year - was agreed by Sir John Major in 1990.