Cruise vessel with dozens of variant H1N1 virus flu docks in France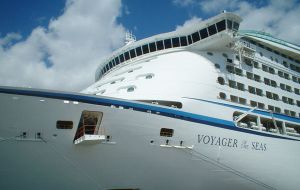 A Royal Caribbean cruise ship carrying dozens of victims of swine flu among its 5,000 passengers and crew has docked in the south of France, officials have said. Sixty crew members have so far been diagnosed with the H1N1 virus, while 70 of their colleagues were also showing signs of being infected, they added.
They will be treated on board the ship while it docks at Villefranche-sur-Mer.
However ship's owner, US-Norwegian Royal Caribbean said all tests had been negative. Royal Caribbean said it had tested 62 crew members and two guests with cold and flu-like symptoms onboard the "Voyager of the Seas" for influenza A, of which H1N1 is a sub-group.
"All of them were negative for influenza A" said Royal Caribbean spokeswoman Cynthia Martinez. "Everyone was tested, all the results were negative".
On Thursday, officials said a 14-year-old girl infected with H1N1 had become France's first fatality from the virus.
However, they cautioned that it did not appear that her death, at a hospital in the north-western city of Brest, had been directly linked to the virus.
"This young girl suffered from a serious illness, complicated by a severe pulmonary infection," the Institute for Public Health Surveillance (InVS) said.
Neighbouring Belgium also reported its first swine flu death on Thursday when a 34-year-old woman passed away after developing "a double viral pneumonia".
Deaths have now been recorded in five European nations - Belgium, France, Hungary, Spain and the UK, where 31 people have died.
The cruise ship docked at Villefranche-sur-Mer - the Voyager of the Seas, operated by Royal Caribbean Cruises - had travelled from the Italian city of Naples as part of a Mediterranean tour.
The ship's 3,600 passengers have been allowed off to visit the town before the boat leaves Friday night for Marseille, according to officials.
Categories: .