Falkland Islands: Antarctic air flow brings record snow fall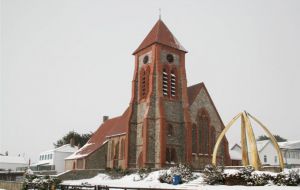 ALTHOUGH the Falklands can expect cold weather at this time of year, heavy snow which fell over the past week was a record for recent years.
Weatherman Justin Chamberlain said the Islands had been under the influence of a highly unstable convective south/southwest air flow originating in Antarctica, keeping air temperatures below freezing. At times the wind was strong or gale force, leading to blizzard conditions and snowdrifts.
The duration of the Antarctic showery feed was unusual, he said, due in part to an area of high pressure covering much of South America, which blocked the usual mobile westerly flow.
Forty-three centimetres of snow were recorded, a new record at Mount Pleasant. It is comparable to July 2004, when a total of 33cm was recorded, and May 1995, when 29cm was recorded.
A thaw is now anticipated, as we move through the weekend and into next week, Justin said, but he added that this would most likely not be the last snow seen this winter.
The slippery conditions resulted in several bent lamp posts, and the occasional bumped car caused by sliding traffic, but otherwise little damage was caused.
Inspector Len McGill told Penguin News there had been fewer vehicle incidents than expected considering the amount of snow, and the length of time it had laid. The most serious, he said, was the rolling of a taxi on Snake Hill, which resulted in very minor damage.
The low level of incidents, he said, was due to careful driving demonstrated by road users and the attention to detail from members of the Public Works Department in salting and clearing Stanley's roads.
While the snow may have brought fun for those in Stanley – with sledgers of all ages seen on the icy hills - farmers have found it a worrying time.
Susan Hirtle of The Peaks farm at Hill Cove said the weather had been "very tough" and she was anticipating losses. Her cattle had been losing weight "so quickly" due to the weather, her hens had stopped laying, and the damp conditions meant her sheep were "permanently wet".
However, the losses of animals would be hard to evaluate until shearing, she said.
The frequency of the thick snow showers and squalls caused FIGAS to cancel all flights for three days; however they were back up in the air yesterday (Thursday).