Global Antarctic scientific research for a week moves to Punta Arenas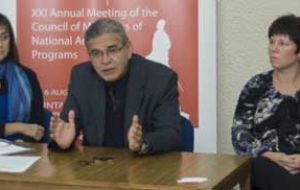 For a week Chile and more precisely Punta Arenas in the extreme south will be the hub of Antarctic scientific discussions when the XXI Annual Meeting of the Council of Managers of National Antarctic Programs officially opens this Monday.
An estimated 120 experts and academics from 29 different countries will be participating at the meeting hosted by Chile's Antarctic Institute in Punta Arenas and which will address how to best develop and promote scientific research policies in Antarctica.
The meeting also coincides with the fiftieth anniversary of the Antarctic Treaty and will host four different meetings from the five different organizations that belong to the Antarctic Treaty System.
This weekend was dedicated to the International Work Group on the Fildes Peninsula, particularly regarding environmental issues, since it's the area most accessible to Antarctic tourism and visitors.
On August 5/7 the Scientific Committee for Antarctic Science, SCAR, will be holding two meetings and finally Dromlan (Dronning Maud Land Air Network) which convenes all those countries which make use of the air link between South Africa and Antarctica.
Chile's Antarctic Institute president Jose Retamales said that the area surrounding the Antarctic Peninsula is where the effects of an increase in ocean temperatures and other changes, can be better appreciated, and this will be one of the main points of the scientific agenda.
However collaboration in scientific research is the top issue for the Managers of National Antarctic Programs as well as logistics and obviously the environment on a two phase approach: how to ensure the conservation of the pristine conditions of Antarctica and the global consequences of climate warming in the area.
In line with this one of the issues is to enforce the double hull for vessels sailing in Antarctic waters, as well as improved logistics both in air and sea for planes and ships.
Last but not least there will be several workshops on search and rescue operations. Following the sinking of the cruise Explorer, the need for a better coordination in the event of accidents has turned paramount, including a permanent report on the location of vessels in the area.