Former Argentine president De la Rúa indicted in bribes case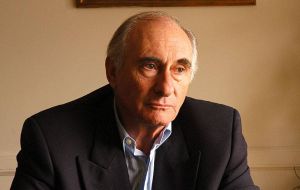 The Argentine Federal Appeals court has confirmed the indictment of ex-president Fernando de la Rúa in a case linking the former Radical president to the payment of bribes at the Senate in 2000 and which ended with a major political crisis.

The Appeals court confirmed a ruling of Federal Magistrate Daniel Rafecas, who held De la Rúa responsible for the payment of bribes to Radical lawmakers in return for passing the controversial "Labour Flexibilization Law" in April 2000, which was openly opposed by Argentina's strong trade union confederation. Allegedly the bill was part of a package of reforms demanded by the IMF.

That law loosened restrictions in the labour market in a move to improve the flexibility of the market amid a sharp economic contraction in Argentina. The decision of the Federal Court clears the way for the start of the trial against the ex-president.

The ruling described the bribes' scandal as "an action of the government led by Fernando de la Rúa as a president," who resigned to his post in 2001 amid a deepening economic and political crisis. Former senators Emilio Cantarero, Alberto Tell, Augusto Alasino, Ricardo Branda and Remo Costanzo, as well as Radical José Genoud have been prosecuted for allegedly accepting bribes.

The "Senate Scandal" came to the public eye after Mario Pontaquarto, an advisor at the Upper House of Congress reported the incident to the judiciary and unveiled details on the bribes paid to senators during the 1999-2001 administration.

Pontaquarto said during an interview last week that he was disappointed over the lack of advances in the case, and told reporters that he had considered killing himself.

The "Senate scandal" led to the resignation of Vice-president Carlos "Chacho" Alvarez in October 2000, signalling the beginning of the end of the ruling Alianza coalition. In effect a year later unable to address mounting problems and without political support De la Rúa resigned to the presidency.