Uribe tours South America in support for his military plans with the US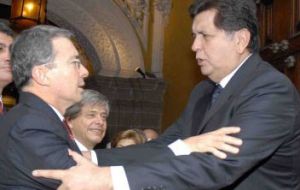 Colombian president Alvaro Uribe is visiting most South American countries to explain the extent of the understanding currently under discussion with Washington and which will enable an increase of US military personnel distributed in several Colombian bases, an initiative which has received strong reactions across the continent.
Uribe was scheduled to land in Bolivia Tuesday night for a meeting with his counterpart Evo Morales after holding an interview with Peru's Alan García. At his first stop on the seven-country tour Uribe won the support from Garcia, one of his few friends in South America.
"President Uribe is here to talk about issues that are important for the continent, about difficult situations that have victimized Colombia and should not occur," Garcia said.
Funded by the cocaine trade, rebels from the Revolutionary Armed Forces of Colombia, or FARC, have waged an insurgency against the state for 45 years in a conflict that has killed or displaced thousands of people.
With support from the US, Uribe is finally winning the war and has helped stabilize and bring reasonable security to Colombia. As Washington's main ally in the region, he is now working to reach a deal this month with the US. The US wants to relocate its drug interdiction flight operations to Colombia after it was kicked out of neighbouring Ecuador.
The plan could give US forces access to seven Colombian bases (two Army, two Navy and three Air Force) and increase the number of US troops in Colombia above the current total of less than 300 but not above 800, the maximum permitted under an existing pact, officials have said.
On Wednesday and Thursday the Colombian president will be meeting with Argentina's Cristina Fernandez de Kirchner, Chile's Michelle Bachelet and Paraguay's Fernando Lugo. On Thursday the schedule includes Uruguay's Tabare Vazquez and Brazil's Lula da Silva.
Colombian Vice-president Francisco Santos described President Uribe's tour as "most important" because it will also give the president a chance to present "strong evidence" in favour of his combat against the guerrilla movements and on the purchase of weapons by the subversive forces.