First Chilean Cup soccer game played in Easter Island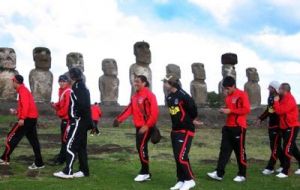 Chile's top league team Colo Colo easily defeated Rapa Nui in the first official match in Easter Island. The Chilean heavyweights won the Chilean Cup match 4-0. The locals, who didn't count with any professional footballers, but artisans, fishermen and dancers, played a decent game but were, as was expected, outplayed.
However it was a milestone since it was the first time a professional football team played in Easter island and it's the first time the insular territory in included in an official Chilean tournament.
Before the match, Rapa Nui performed their traditional dance, which is similar to that of the 'haka' performed by the New Zealand rugby team, the All Blacks. The game was played in the island's only pitch open to the public which can be found just meters from the beach and within view of a Moai statue.
An own goal from Javier Perez during a corner kick paved the way for Colo Colo's comprehensive victory. Cristian Bogado of Paraguay scored twice and Phillip Araos scored the fourth goal from the penalty spot.
In the 20th minute, referee Carlos Chandia disallowed a goal from the locals when Tuki handled the ball. Thus, Colo Colo advanced to the following round of the Chilean Cup. The winner of the tournament gains direct entry into the 2010 Copa Sudamericana.
The match was broadcast live on national television, but the natives made sure not to miss the historical event. Around 3,000 fans roughly 500 of which were Colo Colo supporters, attended the match. It was a large turn-out considering that less than 4,000 people actually live on the island.
The Copa Chile is a nationwide competition held by the Chilean Football Association (ANFP), which gives amateur teams the opportunity to take on professional clubs. Several weeks ago, the ANFP sent former Chilean international Miguel Angel Gamboa, who made two appearances at the 1982 FIFA World Cup Spain and currently coaches Chile's beach soccer side, to hone the islanders' skills before the Colo Colo clash.
Known as Rapa Nui by the locals, which means 'big island' in Polynesian, the name Easter Island was originally given by its discoverer, the Dutch explorer Jakob Roggeveen - who first set foot on its soil on Easter Sunday, the 5 April 1722. Its natural beauty makes it a popular tourist destination, while the island's ancient culture adds an enticing touch of mystery. Among the most famous of these enigmas are the moai, enormous stone statues whose origins and purpose continue to puzzle modern archaeologists.
In the future, more football matches are expected to take place on the island