Hazardous waste illegally sent to Brazil returned to UK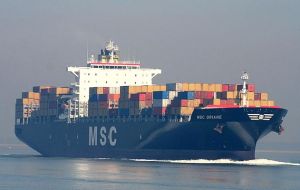 Brazil announced it was returning 1.500 tonnes of hazardous waste that arrived from Britain labelled as recyclable plastic. The Brazilian Institute of Environment and Renewable Natural Resources said 89 containers left for Felixstowe, UK from the port of Santos on board MSC Oriane.

The containers which arrived between February and May at Brazilian ports Santos and in Rio Grande do Sul were labelled recyclable plastic, but were found to be packed with domestic and hospital waste including batteries, used syringes, condoms, old medicine and dirty nappies.

Three men in the UK have been arrested in connection with a probe into alleged illegal shipments of waste. They were held after officers from the Environment Agency and Wiltshire Police raided three properties in Swindon last month.

A 49-year-old, a 28-year-old and a 24-year-old man were detained before being bailed until the end of October. Waste can be sent abroad for recycling, but it is illegal to export it for disposal. The maximum penalty for breaking the rules is an unlimited fine or up to two years in prison.

Brazil's government said it would make a formal complaint to the World Trade Organisation over the container deliveries. Officials said under the Basel Convention, shipments of toxic waste from industrialised nations were banned.

Brazilian authorities also sanctioned companies involved in importing and transporting the hazardous waste with fines ranging 225.000 US dollars.