Paraguayan Senate not interested in having Venezuela in Mercosur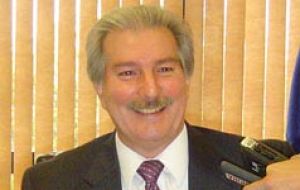 The Paraguayan Congress is not interested in considering the protocol for Venezuela's incorporation to Mercosur said Senator Miguel Carrioza, president of the Upper house.

He was particularly critical of latest events in Venezuela where President Hugo Chavez administration has implemented the closing of at least 34 broadcasting stations.

"Our Congress has no interest in addressing the Venezuela issue under these conditions", said Senator Carrioza during a meeting with the press at the Legislative.

Senator Carrioza also questioned the attack on channel Globovisión station by radical militants from President Chavez street thugs. Globovisión is a tenacious critic of Chavez and his policies.

However Senator Carrioza made it clear that one thing is the Venezuelan people, "for whom we have the most of respects", and another the regime of Mr. Chavez.

"We don't want them coming to tell us that the way to solve problems is closing newspapers and shutting down the media. Mercosur has enough problems and doesn't need to add anymore", underlined the Paraguayan senator.

Venezuela is an associate member of Mercosur and was officially incorporated as full member on 2006 pending congressional approval from the four founding countries' legislative branches.

Argentina and Uruguay have done so; however Paraguay and Brazil have been reluctant to consider the incorporation protocol.

In spite of promises of a quick approval by next September, Paraguayan Senators are outraged with President Chavez handling of the press and the Brazilian Senate has its own credibility crisis.

The Upper House president Senator Jose Sarney is on the verge of resigning or being ousted for alleged corruption practices, which if it happens as the main ally of President Lula da Silva ruling coalition, it could endanger the legislative agenda, the control of the Senate and even question support for the coalition's main presidential candidate for next year's election.