Chile leads in wine exports but Argentina catching up in quality and growth rate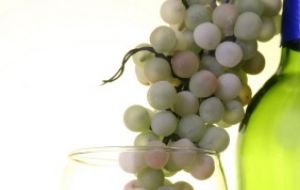 The average price of an exported bottle of wine from Argentina has exceeded a Chilean bottle for the first time, according to recently released Wines of Chile figures. The report also revealed that Chile's wine exports fell 4.4% between January and June 2009, compared to the same time last year.
Across the Andes in Argentina, Wines of Argentina reported a 14.4% increase in the same six month period, with sales of 258 million US dollars.
Despite Argentina's success so far this year, the figures still amount to half of its neighbour's industry, with Chile exporting 506 million thus far this year.
Experts say that Chile dropped its wine prices more dramatically than Argentina in the face of the economic crisis.
Whereas the average 2009 price of Argentine exported wine dropped to 27.81 USD from last year's 28.6 USD, Chile's dropped it's 2008 average price of 30 to 26.03.
Both countries are still experiencing a growth in the wine industry and are expanding rapidly into the North American market. In 2008 Chile was placed 5th in world exports, with Argentina in 7th.
René Merino, head of Wines of Chile, explains Chile's decline in exports and Argentina's gain this year as a question of strong brand positioning.
"They have a country identity much stronger than ours. They have football, Buenos Aires, and Tango. This is an advantage that in times of crisis helps them."
While export profits might have taken a dip, Chile's domestic market is profiting from a growing market in sparkling wine. Young people and women are quaffing so much fizz that domestic sales are up by 10%.
The main reason given for this new craze is the bubbly drink's association with sophistication and fashion. Women are picking the drink over traditional aperitifs due to its low calorie content, whereas young people are drinking it for its innovative taste and its ability to mix with energy drinks and other spirits.
Experts predict the current trend to grow, as seen in Argentina over the past decade and for a long time in Brazil.
Established Chilean wine labels such as Concha y Toro and Casillero del Diablo are expanding their lines from traditional wines to include sparkling wines, to assure their piece of the pie.
By Hannah McNeish - Santiago Times