Obama calls "hypocrites" those who demand US direct action in Honduras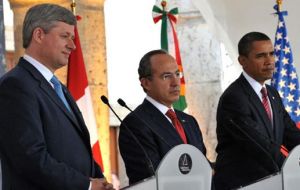 United States President Barack Obama said it was hypocritical for critics of Washington's response to a coup against Honduran President Manuel Zelaya to demand a more forceful US role in returning him to power.
Zelaya, an ally of Venezuelan President Hugo Chavez, said last week the United States needs "only tighten its fist" to evict the de facto government installed after he was overthrown in June.
"The same critics who say that the United State has not intervened enough in Honduras are the same people who say we are always intervening and the Yanquis need to get out of Latin America" Obama told a closing news conference at a US-Mexico-Canada Monday summit in Guadalajara.
The issue was addressed by Obama together with México's Felipe Calderón and Canadian Prime Minister Stephen Harper.
"You can't have it both ways," he insisted, without naming names. "We have been very clear in our belief that President Zelaya was removed from office illegally, that it was a coup and that he should return. We have cooperated with all the international bodies in sending that message."
Obama, Calderón y Harper expressed their full commitment "with democratic institutions and the rule of the law" in the continent and supported the Organization of American States resolutions on the Honduras case.
"We must strengthen the OAS, (Costa Rican) President Arias mediation efforts and even possibly create a Group of Friends of Honduras to help with restoring democracy", said Mexican president Calderón. He added the US must not be seen as the "great solver" for the Honduras crisis.
Latinamerican left has bitterly criticized Washington over the decades for intervening in the region's affairs through military force, covert action and economic pressure.
Obama told reporters in Washington last week he had no quick way to resolve the political crisis in Honduras and that the United States would not take unilateral action.
"If these critics think that it's appropriate for us to suddenly act in ways that in every other context they consider inappropriate, then I think that what that indicates is that maybe there's some hypocrisy involved in their approach to US-Latinamerican relations," Obama said.