President Oscar Arias sick with H1N1 virus.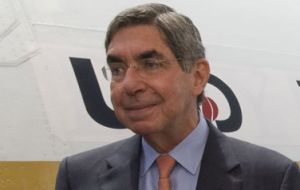 Costa Rican President Oscar Arias is said to have the H1N1 virus. He was placed under medical care at his home, but he will not delegate power in the meantime, Presidency Minister Rodrigo Arias said.
"The pandemic does not distinguish: I am one more case in this country and I am following the recommendations that the health authorities have given the entire population," said the President during declarations to the Government.
Arias, who is 67, is the first political leader to be infected by the virus and will rest at his home.
"He will continue to be active in his work as President," said Rodrigo Arias. "After suffering from a sore throat, headaches and fever, the President asked to be examine and it was confirmed that he had H1N1," added the Minister.
The H1N1 virus has killed 1,462 people out of the 177,457 reported infected in 170 countries and territories, according to the World Health Organization.
In Costa Rica, the virus has been confirmed in 865 people and has killed 28, according to information given out this week by the Ministry of Health.
Arias has had to focus his attention on the situation in Honduras, which has taken time away from issues in his own nation.
Arias presented a proposal which explains the need for the return of Manuel Zelaya to power, but the de facto government of Roberto Micheletti is against such actions.