Mexico offers to mediate between Colombia and Venezuela and Ecuador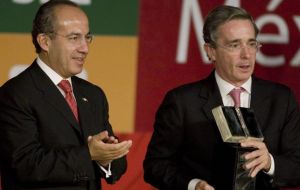 Mexican president Felipe Calderón on an official visit to Colombia offered his country's mediation in the conflict between Bogotá and neighbouring Ecuador and Venezuela.

Calderón also underlined Mexico respects Colombia's sovereign decision to allow US troops in seven Colombian bases, which has become the latest contention issue in the region.

"We are willing to offer our mediation efforts as long as both sides are willing", said Calderón on Thursday the last of his two day visit to Colombia.

From Colombia he flies to Uruguay, with the official agenda beginning Friday.

Calderón recalled that Mexico holds the pro tempore chair of the Rio Group and played a similar role between Presidents Alvaro Uribe, Venezuela's Hugo Chavez and Ecuador's Rafael Correa during the last summit of the group in Dominican Republic.

Calderon and Uribe signed an agreement to increase bilateral cooperation in fighting organized drug gangs crime. This includes the training of 11.000 Mexican police officers for combating drug trade and organized crime.

Another aspect of the agreement is the exchange of intelligence, information gathering, exchange of evidence and cooperation in court trials.

Colombia is the world's main producer of cocaine which is mostly shipped to the north and introduced in the United States by the Mexican cartels.

Mexico is currently suffering an upsurge of drug gangs related killings and shootings as well as kidnappings, similar to those experienced by Colombia in the last two decades.

Calderón revealed that during the recent North American leaders summit, (US, Canada and Mexico), President Barack Obama was quite emphatic that the US has no interest "in establishing new military bases in the region" and recalled that cooperation with Colombia in combating drugs and terrorism is contemplated in existing agreements.

The Uribe administration decision to allow US troops to operate from Colombia bases was denounced by several leaders of the region mainly Venezuela's Hugo Chavez who fears they could be used "for an attack on Venezuela". He went further and said that "war drums" are sounding in South America.

The issue will be addressed in an extraordinary meeting of the Union of South American Nations, Unasur convened for August 28th and hosted by Argentina in Bariloche.

At this week's Unasur summit in Quito participants could not agree on a declaration condemning Colombia for signing the agreement with Washington.