Chile ponders tidal energy potential in Magellan Strait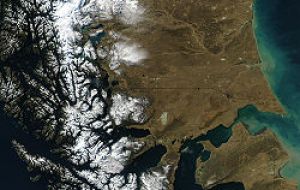 An initial study on Chile's tidal energy capacity confirms the country has "unique global potential" for this renewable energy source. According to the report, published by Chile's National Energy Commission (CNE), even if only 10% of this renewable resource is harnessed, it would exceed the existing installed capacity of Chile's central electricity grid, or SIC.
Compiled at the behest of the Inter-American Development Bank (IDB), this report was based on investigations undertaken by Garrad Hassan, the world's leading renewable energy consultancy.
Consultations between energy commissions, environmental groups, maritime authorities and the Navy led to the identification of potential sites for the development of this non-conventional renewable energy source.
Significantly more predictable than wind energy and solar power, the energy of tides is increasingly being drawn upon to produce electricity and other forms of power. Suggested sites include major ports such as San Antonio, Puerto Montt and San Vicente, which the report identified as "promising" sources of electricity generation.
Moreover, the Corcovado Gulf and the Magellan Straits feature among locations that will channel energy produced from ocean currents.
The report suggests that in terms of tidal energy, "Chile could play a decisive role and profit from early active participation by claiming international leadership in the field".
Current leaders France, Germany and Spain have demonstrated that benefits accrued through his renewable energy source outweigh development costs, particularly in terms of energy security, reduced electricity prices and positive environmental effects.
Antonia Wynne-Hughes (editor@santiagotimes.cl)