Falklands Patrol Vessel Ready For Action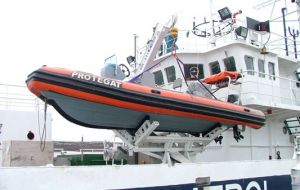 FALKLANDS Fishery Patrol Vessel Protegat is ready for action since a refit that not only brings the vessel up to UK Maritime Coastguard standards but enhances her fishery protection and research capabilities.On August 16, Protegat returned from Montevideo, Uruguay following a two month re-fit.
Roy Summers of Fisheries Operations, Falkland Islands Fisheries Department said, "The main purpose of the re-fit was to bring the ship up to the required UK Maritime Coastguard Agency (MCA) standards for a Class VII cargo vessel, following the ship's change of use from a fishing vessel. This involved completely stripping out the majority of the accommodation & replacing it in order to meet MCA & International Labour Organisation standards."
At the same time, to enhance the vessel's fishery protection and research capabilities several additions were made to the Protegat. A davit was fitted on the Port side to launch and recover a Rigid Inflatable Boat (RIB) used for conducting inspections at sea and transfer of Scientific Observers. This Davit will not only increase the safety of this operation, but also reduce the time taken to launch and recover the RIB.
Mr Summers said, "A permanent base plate was welded to the deck to facilitate the siting of the 20mm Oerlikon Gun, additionally a fire monitor was also fitted to the "monkey island" to give the vessel a fire fighting capability.
"A winch was fitted to the Starboard side to enable CTD (Conductivity, Temperature & Depth) Transects to be carried out, these provide valuable information on the Oceanographic conditions around the Islands and are used to aid stock assessment.
"All these enhancements will enable the vessel to carry out its required tasks to a high standard."
The Protegat is owned by Galfishing, a joint venture company whose Falkland Islands based partner is Red Back Consultants Ltd.
By Lisa Johnston – SeAled PR – Stanley