Some positive signs for Argentine industrial activity in spite of poor data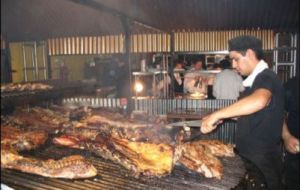 Argentine industrial activity during July plunged for the tenth month running going down 9.5% compared to a year ago, and accumulates so far this year a contraction of 8.7%, according to a private financial consultant group based in Buenos Aires.
The Industrial Production Index from consultants Orlando Ferreres and Associates points out that the July data is particularly significant motivated by events a year ago. In July 2008 industrial activity in Argentina soared 10.7% following the end of a long strike and conflict between the government and farmers.
However on the positive side Ferreres and Associates point out to the fact that the pace of contraction seems to be slowing (May 9.5% and June 3.4%) and a "stabilization" period can be expected with a probable exit from the recession towards the end of the last quarter, when industry "could begin to show positive indexes".
According to the consultants the improvement can come from a more positive global economy, particularly from Brazil which is Argentina's main trading partner and more encouraging balance sheets from the US banks.
The report points out that the only sectors of the economy which showed a positive development during the first seven months of this year are: food, pharmaceuticals and tobacco, with 5.3%, 3.7% and 2.9% increases.
"This was possible mainly because of the low production in the first half of last year caused by the farmers' conflict which impacted on the food industries. Besides the limited demand flexibility for food, tobacco and medicines when earnings or salaries drop, and the A/H1N1 virus flu helps to understand much of what happened with the indexes", claim the consultants.
At the other end the sectors of basic metals and machinery explain industrial recession since they have a plus 25% impact on local manufacturing.
"The incipient recovery in these sectors in the last few months is caused by the running down of inventories following lower production targets since the beginning of the crisis".
The auto industry is steadily recovering and increased production in July to 47.000 units.
Ferreres & Associates also underline that even when the non metal mineral sectors such as cement were down 8% from a year ago, "this is a tricky number because sales continue to increase and in July this year they were almost similar to those of October 2008".