US does not have or seeks bases inside Colombia, said Hillary Clinton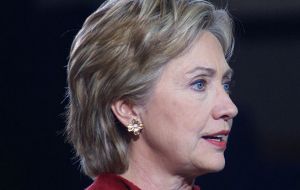 United States Secretary of State Hillary Clinton said the US-Colombia defence cooperation agreement would not create US bases in Colombia or significantly increase US military presence in the region.
The two governments reached provisional agreement on the defence accord, giving US forces access to seven Colombian bases to tackle regional drug-trafficking and terrorism, late last week. Clinton discussed the accord this week with Colombian Foreign Minister Jaime Bermudez.
The defence accord has been the focus of heavy criticism for some Latin American leaders, notably Venezuelan President Hugo Chavez, who has depicted the accord as a manifestation of US imperialism that could provoke war in the region.
At a joint press appearance with her Colombian colleague, Clinton suggested opponents of the agreement were wrongly characterizing it, either deliberately or out of ignorance of its actual terms.
She said the deal, to be finalized in the near future, gives US forces access to Colombia bases but that command, control and administration of the facilities will remain in Colombian hands.
"Any US activity will have to be mutually agreed upon in advance. The United States does not have, and does not seek, bases inside Colombia. Second, there will be no significant permanent increase in the US military presence in Colombia. The Congressionally-mandated cap on the number of US service members and contractors will remain, and will be respected," she said.
Clinton also said the agreement is entirely about bilateral cooperation between the United States and Colombia and does not pertain to other countries.
Foreign Minister Bermudez, for his part, said the pending agreement is founded on the basic principle of non-interference in other countries' affairs.
"The principles contained therein are very clear: the principle of sovereign equality of states; the principle of non-intervention and the principle of the territorial integrity of states. These are very important tenets and I think it would be extremely good to have more agreements, not just with the United States but with other states in the same vein," he said.
The accord would permit the U.S. military to, among other things operate surveillance fights from seven Colombian bases (two Navy, tow Air Force and three Army) to track drug-running boats in the Pacific.
The United States turned to Colombia after Ecuadorean President Rafael Correa, a political ally of President Chavez, refused to renew an agreement that gave US monitoring planes access to Ecuador's Manta air base.
A State Department fact sheet on the agreement issued Tuesday said a Congressional cap limiting the US presence in Colombia to 800 military personnel and 600 civilian contractors at any time will be faithfully respected.