Argentine football season begins with the Kirchners scoring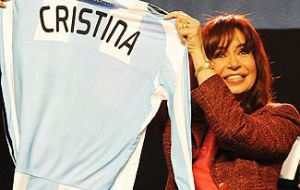 Argentina's soccer championship kicks Friday night after the government stepped in this week and put the national game on the state payroll in order to avoid a financial crisis gripping clubs that threatened the entire season.
President Cristina Kirchner signed the deal with Argentine Football Association (AFA) president Julio Grondona by which the state will pay approximately 150 million US dollars a year to show games live and free on state television.
"We don't want a country of kidnappings, extortion or kidnapping of goals", said Mrs. Kirchner following the signing ceremony. "I have read that football is going to be subsidized by government. That's nonsense; they simply don't know that football is a brilliant business that needs no subsidies, simply participate in the earnings".
Mrs. Kirchner advanced that in coming weeks the government will begin selling publicity for the football matches to help finance the operation, "but we are certain earnings are going to be higher than what we expected".
She said 50% of the earnings will be paid to AFA and the rest to help finance different Olympic sport disciplines.
"We felt we had the obligation to guarantee that all Argentines had free access to their most chosen sport. I feel we are complying with that obligation, which rests not only on a government, but also in the whole political, social and sports leadership of the country", underlined Mrs. Kirchner.
The move follows the AFA decision last week to rip up its existing contract with a pay-per-view company, claiming clubs needed more cash if they were to survive.
The state of clubs has been exposed by the recession, which has affected the international market for Argentine players, denying clubs a vital source of income. Players are threatening legal action over unpaid wages, while clubs owe the state more than 80 million USD in back taxes.
The government's move into football has been heavily criticised by many in the country, with the opposition labelling it the latest example of Ms Kirchner's increasing populism as she tries to salvage her increasingly lame duck administration.
The president has seen her popularity battered by a deepening recession and multiplying cases of cronyism and mismanagement within her government.
Last June her husband and former president Nestor Kirchner was defeated in a key mid-term poll in which the Kirchners lost control of congress. The couple also stands accused of using the financial crisis in Argentine football to strike a blow at the country's biggest media empire and a prominent critic of Cristina's administration.
The pay-per-view company that saw its contract to screen games on cable unilaterally terminated by the AFA is in part owned by the Clarín group, whose newspapers and television programmes have adopted an increasingly critical stance towards the government since the crisis in Argentina started to gather pace last year.
This has drawn the fury of the Kirchners who took several important decisions favouring Clarín during Mr Kirchner's presidency earlier this decade, when Clarín largely supported his government.
Now the media group has lost one of its main businesses, although it is threatening to sue the AFA for breach of a contract that was to run until 2014.