Argentina "harshly condemns" Iranian ministerial nomination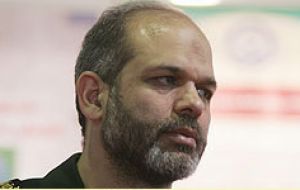 Argentina's Foreign Affairs Ministry "harshly condemns" the nomination of Ahmad Vahidi to serve as Iran's Defence Minister as he is a suspected international terrorist sought by Interpol in connection with the 1994 attack on AMIA Jewish community centre in Buenos Aires.
Sergio Burstein, of the ONG Relatives and Friends of the AMIA Victims also rejected publicly the nomination.
The Foreign Affairs ministry stated that the country considers Vahidi's nomination as an "offence to the Argentine Justice and their victims."
"The decision adopted by the Iranian president, who systematically denies the Holocaust, means an aggression to the victims of the massacre, to their families, to the Argentine Jewish community and to the Argentine Republic and its judicial system, and it must receive the most categorical condemnation from the Argentine government and the community of democratic nations," a document released by DAIA Jewish association says.
Iranian president Mahmoud Ahmadineyad has nominated Vahidi for the Defence Ministry, amid a cabinet reshuffle. The designation must be approved by the Parliament.
Vahidi, a former commander of the elite unit of the Revolutionary Guard known as the Quds Force, was one of 15 men and three women named to Cabinet posts by Ahmadinejad as he begins his second term in office. The choice is likely to further chill relations between Iran and the international community, especially Israel.
Interpol, the international police agency based in Lyon, France, placed Vahidi and four other Iranian officials on its most-wanted list in 2007 at the request of Argentine prosecutors, who say the men played a role in planning the July 1994 attack on the seven-story community centre in Buenos Aires.
Iran has never acknowledged the existence of the Quds Brigades, which is believed to be a covert operation branch of the Revolutionary Guards.
Ali Akbar Javanfekr, press adviser to Mahmoud Ahmadinejad, the Iranian president, dismissed the complaint, saying that he saw a "Zionist" hand in the outrage.
"How come didn't they bring it up in the past?" he asked. "Mr Vahidi was a deputy defence minister and this is very senior political position. Therefore it seems that this is a new trick being planned and is basically a Zionist plot".
The 1994 bombing was the second attack against a Jewish target in Buenos Aires in less than three years. Two years earlier, in 1992 the Israeli embassy was also levelled in a bombing that killed 22 people and wounded 200 others.
Argentina has the largest Jewish community in the Americas outside the United States.