Turkey layers in Chile infected with the human A/H1N1 virus flu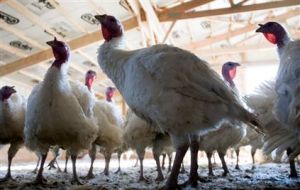 Two turkey farms in Chile have been put under quarantine restrictions after fears the birds have caught swine flu from humans. Vets in the country said the A/H1N1 flu virus had been discovered in the two poultry plants in Valparaiso.
Should the outbreak be confirmed, it would be the first case of infection reported in birds and the first time birds have caught the disease from humans. The virus has been confirmed in only humans and pigs so far.
"The presence of an A/H1N1 virus has been detected in two farms in the Valparaiso region," which lies west of the Chilean capital, Santiago, the agriculture ministry said in a statement on Thursday. Jeanette Vega, a senior health ministry official, said the virus detected in the turkeys was not a mutated form of the A/H1N1 virus.
"What happened in this case is that we, human beings, infected the turkeys. The virus identified in the turkeys is the human sort; there is no mutation," she said.
Carlos Pavletic head of the Animal diseases department from the Ministry of Health said the virus had been detected in the live birds, "but not in the flesh or turkeys for consumption".
The alert over the turkey farms in Valparaiso was raised on August 13 when the farm company said that egg production had dropped, according to the Chilean authorities. However, the turkeys at the two farms are mainly laying breeders and not for consumption. The chicks from the eggs are bred for slaughtering.
"There is no evidence of the disease being present in the rest of the country," the Chilean agriculture ministry said. But the infection is likely to heighten fears that a transmission of the flu virus to birds could lead to a possible mutation of A/H1N1.
World health authorities are concerned that swine flu could mutate with a strain of bird flu, creating a more deadly virus that is hard to treat.
At least 116 people in Chile have died of swine flu so far, figures released this week by Chile's health ministry said. More than 70% of the 1.800 deaths worldwide from the virus have occurred in South America.