An "eternally grateful" Chile mourns Ted Kennedy's death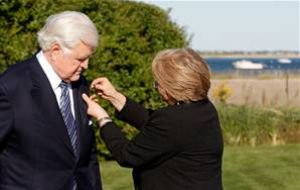 Chilean President Michelle Bachelet gave her condolences on Wednesday to the family of the late Massachusetts Senator, Edward Kennedy, whom she called "A great politician who supported a democratic Chile during hard times for our country."
Senator Kennedy, a champion of democracy and human rights in Chile during the country's 1973-1990 military dictatorship, passed away at the age of 77 on Tuesday evening after a battle with brain cancer. His career as a Democratic state senator lasted 47 years, making him the third-longest serving senator in U.S. history.
"In a special way, we Chileans owe him for his courage and strength in supporting the democratic cause in our own country," echoed a statement released Wednesday by Chile's Socialist Party.
Kennedy is well known in Chile for his "Kennedy Amendment" in 1974, a law which froze the US sale of arms to Chile during Gen. Augusto Pinochet's military dictatorship. The arms sale ban was lifted in 1990 when Chile transitioned back to democracy.
The late senator visited Santiago in 1986 and was egged by Pinochet supporters. In 1990 Kennedy again visited Chile, but this time to attend the country's transition to democracy.
For his participation in Chile's fight for democracy, Chile is "eternally grateful" said a statement from the government on Wednesday.
Bachelet awarded Kennedy with the Order of the Merit, one of the nation's highest honours, last September in the senator's Massachusetts home.
Ted Kennedy's senate reign was marked by both scandal and achievement. He earned a reputation for advocating workers rights, education, and immigration reform.
But, especially as a young senator, he was known as a womanizer. In 1969 was suspended from the Senate after the "Chappaquiddick incident" in which he accidentally drove his car off a bridge, drowning his female passenger and leaving the scene of the accident.
More recently, during the George W. Bush presidency, Kennedy strongly opposed the US invasion of Iraq. In 2008 Kennedy was diagnosed with a malignant brain tumour.
He suffered from seizures and appeared with less frequency in Senate sessions.
Kennedy's present senate term finishes in 2012 and according to Massachusetts State Law the seat must be filled in 145-160 days through a special election.
By Allison D. Morris Santiago Times