Colombia calls for open, live TV debate on all regional military issues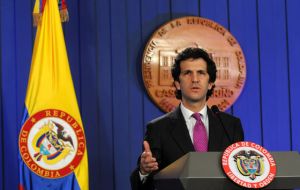 Colombia wants the coming Unasur (Union of South American nations) summit in Argentina to be open to all media and televised live said Colombian Foreign Affairs minister Jaime Bermúdez.
"I think it is most important that the discussion be open, complete, clear, with all issues on the table, reasonable and with no objections", said Bermudez in Bogotá. He added this was needed given the "public debate" that has anticipated the Friday summit in Bariloche when leaders meet to address the Colombia/US military accord.
The controversy has involved most of the twelve Unasur presidents and the next summit was agreed following the failure of the Quito, Ecuador meeting at the beginning of the month to agree on a joint declaration.
Therefore, "we think it is positive and important that public opinion should know and be aware of the views from the different leaders regarding the issues to be addressed in Bariloche", added Bermudez who will be travelling to Argentina with Colombia president Alvaro Uribe, Defence minister Gabriel Silva and the Commander of the Colombian Armed Forces General Freddy Padilla de León.
Mr. Uribe did not participate of the Unasur Quito summit and Brazil's Lula da Silva left before the meeting was over apparently frustrated with developments.
"We believe all this will help the debate, a debate which must be serious, responsible and obviously where all the views of the different presidents are made public", said Bermudez who added that this was the responsibility of all leaders attending the summit.
Bermudez underlined that Colombia aspires that not only the Colombia/US security accord be discussed, but also other issues such as "arms race, arms purchasing to third countries, terrorism and military cooperation agreements with other countries".
Colombia has agreed to the deployment of US forces in seven bases from the three services, which has triggered controversy and suspicion in the rest of the continent.
"We trust all countries represented will be willing to address all these issues, I repeat in an open, frank, reasonable, responsible discussion, which should be televised live" insisted Bermudez.
However he admitted that a live transmission depends on the technical support and political decision from the summit.