Chile has the lowest inflation rate in Latinamerica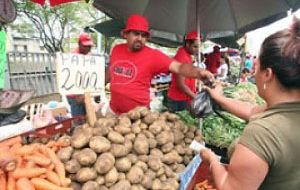 International banking authorities reported this week that Chile has the lowest inflation of any Latin American country, with an accumulated rate of -1.2% through July.
Leading the list is Venezuela, where inflation is currently at 15%. In Argentina and Uruguay, this year's accumulated rate of inflation is 3.84% and 3.4%, respectively.
Chile, by way of contrast, joins Bolivia (-0.82) as the only two Latin American countries with negative inflation numbers. This is a huge change from 2008, when Chile had the fifth highest inflation in the region.
Stretching the numbers back over the past 12 months, Chile's inflation rate is -0.3%, making it the country with the 27th lowest inflation in the world. Ireland, which leads that list, has had an inflation rate over the past 12 months of -5.86%.
Observers attribute Chile's negative numbers to lower food and energy costs, its aggressive monetary policy and to overall economic contraction. The recession, Moody's economist Alfredo Coutiño told La Tercera, "has eliminated all pressure on the side of internal demand and, as a consequence, pushed consumer prices down."
The Central Bank expects inflation to stay negative throughout 2009. Assuming that's the case, Chile would end up with its lowest annual rate of inflation in 74 years.
By Santiago Times Staff (editor@santiagotimes.cl)