Deveronvale Perfection Textel tup lamb beats all records: £231,000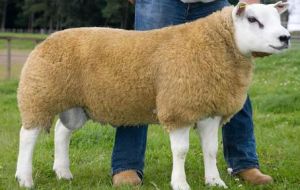 A sheep is believed to have become the world most expensive after selling for £231,000. Deveronvale Perfection, bred in Banffshire, was bought by a fellow local sheep farmer at a sale in Lanark.
The tup (uncastrated) lamb will be used for breeding in the hope of more than recouping the purchase price.
The UK's previous most expensive sheep, Tophill Joe, was bought for £128,000 six years ago. He died recently after fathering lambs worth more than £1m.
Graham Morrison's eight-month old lamb Deveronvale Perfection was sold to Jimmy Douglas. The high price has been put down to the lamb's strong physical attributes.
Seller Mr Morrison said the price was beyond his "wildest dreams".
However, he said the sheep lived up to his name and was indeed "perfection".
New owner Mr Douglas said the Texel sheep was as good as he had seen, with a "great body and strong loin". He said "Deveronvale Perfection was the best lamb he had ever seen, with great strength and an incredibly chunky stature".
"It comes down to genetics," said British Texel Sheep Society Chief Executive, John Yates, on the society's website.
"Breeders are looking at the decades of sheep that this blood line can produce."
The price achieved at the Scottish National Texel Sale at Lanark market on Thursday surprised onlookers, "but when breeders see the 'Perfect' Ram, they will stop at nothing," Yates said.