Economy minister confirms Argentina warming up to IMF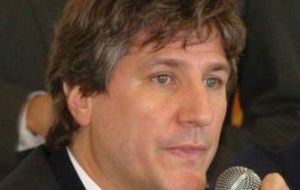 Economy Minister Amado Boudou said Argentina is a member of the International Monetary Fund and the government is trying to participate and establish a new relation but "giving Argentina's own perspective to decide where the IMF must head to."
After the meeting this week with IMF envoy Nicolás Eyzaguirre, Boudou (head of the Western Hemisphere Department) said "the IMF has started to review its practices" after the financial crisis and "Argentina seeks to hold the institutional discussion in those terms in a moment the country does not need external financing."
"As long as it's an IMF with no conditions, without recipes that have failed and we don't have to receive envoys with instructions saying what we should do, then I believe the way could be open for a dialogue", said Boudou on Friday.
Asked specifically if Argentina would be willing to accept auditing on the evolution of the Argentine economy, as foreseen in Article IV of the IMF charter and extensive to all country members, the Argentine minister said "50/50 chance, it could be or it could not be".
"It's not a question of them coming to audit us but rather abiding by conditions that can allow us to normalize a specific situation", he added. Since the end of 2006, when Argentina returned 10 billion US dollars to the IMF, not technical staff from the Fund has had access to the country's finances.
Boudou confirmed that next week he will be travelling to London to participate in a G-20 meeting in anticipation of the Pittsburgh summit of G-20 leaders scheduled for later in the month.
Earlier this week Eyzaguirre, declared that Argentina is set to benefit from the recovering global economy. He said "the global economy's freefall has stopped" and forecasted "a beneficial situation" for Argentina's economy next year thanks to the "high prices" of its raw materials.
Eyzaguirre, who spoke during a meeting of the Council of the Americas in Buenos Aires, said "the global economy already has reached rock bottom" and added that "what started this situation were major mistakes in the financial regulations of developed countries."
He also anticipated that "developing countries (would) grow by 4.5 or 5 percent next year", while the United States "will be very weakened after they get out of this crisis."
Countries such as Brazil, Chile and Peru, which are in a stronger position than others, will benefit from rising commodities prices and may face strong pressures on their currencies, Eyzaguirre said during the meeting.
Their economic strength and the commodities revenues will attract a lot of foreign direct and portfolio investment, forecasted Eyzaguirre.
Their "dilemma" will be how to expand the economy without an excessive appreciation of their currencies, he said. Those countries that are in the worst position are those that are most reliant on the US economy, or US employment, he said.
That mainly means Caribbean nations that are highly indebted and rely on US tourism as well as remittances from the US, he said. Mexico is also "complicated"; despite its strong macroeconomics it is very dependent on US domestic demand, he said.