HMS Gloucester begins Monday a two-week visit to Chile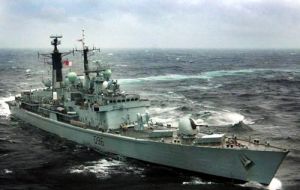 HMS Gloucester is expected next Monday in the port of Valparaiso where she will remain until September 14 as part of a program to reaffirm the close professional links with the Chilean Navy. It will also be an opportunity for the crew to rest and recover after spending months in South Atlantic patrolling.
The Type 42 destroyer is under the command of Captain Iain Lower and has a crew of 22 officers and 172 seamen
The 141 meters long ship was built by Vosper Thorneycroft at Woolston, Southampton and launched on 2nd November 1982 by Her Royal Highness The Duchess of Gloucester. The ship retains links with the Rifles Regiment and the City of Gloucester. The ship's crest features a horseshoe, part of the City's Tudor Arms. The ships motto is "Prorsum" which means Onwards.
The present HMS Gloucester was one of the last four of the class to be built. They have a lengthened hull design giving better sea-keeping qualities and greater endurance. She's equipped with medium range Sea Dart air missiles, Stingray torpedoes, Sea Skua missiles and a Lynx helicopter.
During her stay in Valparaíso, besides the ceremonies indicated by strict naval protocol, RN officers will be meeting with their peers from the Chilean Navy and a team will be playing a hockey match with the local Old Macks at the St. Margaret's British College.