Listeriosis strikes Chile again, claims nine victims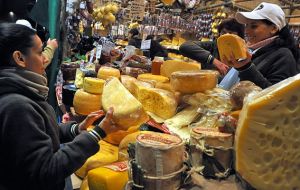 Listeriosis, a food-borne bacterial disease, has claimed nine lives and infected 45 in Chile so far in 2009, health authorities confirmed this week. The disease, which stems from the bacteria Listeria monocytogenes, is often borne from contaminated water and foods and usually infects pregnant women, newborns, the elderly, and people with auto-immune diseases.
Tracking the cause of listeria outbreaks is difficult since the bacteria is a pathogen that develops naturally in soil, making vegetables, cheese, and raw meat common sources.
"It's necessary to cook food well," said Lorena Rodíguez, head of the Department of Food and Nutrition for Chile's Health Ministry, during a press conference. "This is a very important point. Food must be well-cooked in order to kill off the bacteria."
Of the 45 cases reported in 2009, the majority (28) stemmed from Santiago with the rest reported from Valparaiso (7), O'Higgins (3), Maule (2), Araucania (2), Los Lagos (2) and Bio Bio (1). Santiago was the city with most fatal cases, with five people dying from the infection.
This is the second listeriosis outbreak in Chile since 2008, when 165 cases were reported. Investigators traced the latest outbreak to contaminated cheeses sold from dairy producer Chevrita.
The 20% mortality rate from the current outbreak is smaller than previous figures from the U.S., where 34% of 142 cases of the disease in Los Angeles were fatal in 1995.
It is possible to survive small amounts of the bacteria, which are commonly found in animals and humans. But severe contamination can lead to symptoms such as diarrhoea, and possibly to meningitis.
The most recent victim claimed by the disease is a 24-year-old woman from Maule. She was especially susceptible to the disease, having just recovered from three previous illnesses which left her immune system weak and vulnerable.
Since 2008, 14 people have died in Chile from Listeriosis. The best way to avoid contracting the disease is to ensure all produce is cleaned properly before eating and to cook food at temperatures more than 60-70 degrees Celsius.
By Amanda Woodruff (editor@santiagotimes.cl)