Official Argentina committee to organize Malvinas Families trips to Falklands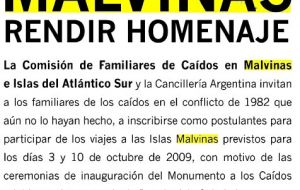 The Argentine government announced the creation of a specific committee for the organization of the Malvinas families coming trips to the Falkland Islands for the official inauguration of the Memorial at the Argentine cemetery in Darwin.
According to decree 1138 published in the Official Gazette the inter-ministerial committee will be responsible for the organization of the two flights of the Malvinas fallen in combat next of kin on October 3 and 10, and the two ceremonies planned for the consecutive Saturdays.
The committee will act under the coordination of the Ministry of Foreign Affairs and includes one representative each from the Chief of Cabinet Office, and the ministries of Interior, Justice, Health and Labour, to be named in the coming ten days.
The committee will be involved in the "coordination of the inter-jurisdictional tasks referred to logistic, administrative, organization and all other aspects of the operation which are pertinent to the preparation and organization of the trips".
The Memorial at the Argentine Darwin ceremony was contemplated in the 1999 accords and was shipped (from Argentina), assembled and finished in 2004. The Malvinas family played a leading role in having the Memorial financed and built and according to the decree was "diplomatically made viable" by the governments of Argentina and Great Britain.
The decree also mentions that last May President Cristina Fernandez de Kirchner announced the timetable for the October trips, following on a mechanism agreed with the UK.
All costs generated by the lodging, air fares, transport, food, medical insurance, obtaining the documents for the trip and any other expense of the Malvinas families from their homes to Malvinas and back, will be undertaken by the Argentine government.
Article 5 of the decree clearly establishes that on a proposal from the Malvinas Families, the newly created Committee for the Organization of the next of kin trips to the Malvinas and South Atlantic Islands will nominate the persons on the list of relatives designated to the inauguration ceremonies of the Memorial at Darwin cemetery.
The original idea of the Malvinas Families was that at least one representative for each of the 694 Argentines fallen in combat during the South Atlantic conflict of 1982, be present at the inauguration ceremony.
This has become one of the last moment stumbling blocks of the visit since the scheduled Lan Chile Saturday flight can only accommodate 240 passengers, which must also include, according to the terms of the agreement between UK and Argentina, the normal traffic of Islanders and others travelling to the Falklands.
Islanders have complained that bookings for the two first October flights have been "knocked out". Lan Chle says all those with issued tickets will be flying.
The issue is currently being discussed between the British Embassy in Buenos Aires and Argentine officials. .