A black woman poised for presidential candidate in Brazil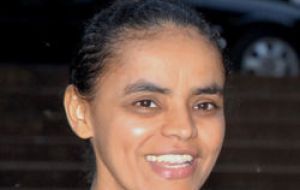 "During the US Democrat party primaries, when Hillary Clinton was running against Barack Obama, a friend of mine said the US would have to choose between a woman and a black person, but if I was to be presidential candidate in Brazil, we wouldn't have that problem, because I'm a woman and black".
The comment belongs to Brazil's former Environment minister Marina Silva who on Sunday joined the Green Party which wants to field her as candidate for the 2010 Brazilian presidential race when President Lula da Silva's two terms comes to an end.
The Green Party, long a fringe party in Brazil with little clout, made headlines last year when its candidate Deputy Fernando Gabeira nearly won the mayor-ship of Rio de Janeiro which is one of the country's most politically seminal cities.
Silva, an internationally renowned defender of the Amazon earlier this month abandoned Lula da Silva's ruling Workers' Party, PT, which she had helped found 30 years ago.
"I feel honoured with the invitation to run for the presidency and that people embraced the idea" Silva told party leaders and supporters in Sao Paulo. "But we'll take that decision only in 2010," she said, amid chants of "Marina for President".
The soft-spoken Silva suggested she didn't want to burn bridges but find common ground around the environment issue. "I'm leaving to build a new house, maybe on the same street," she said, referring to her departure from the PT.
Silva knows very well her candidacy could divide the pro-government vote and undermine the election chances of Lula da Silva's chosen successor, his chief of staff Dilma Rousseff, since they would be disputing the same electorate.
During her half hour speech on Sunday, Silva referred to her friend, the legendary conservationist Chico Mendes, and other figures from civil rights movements, such as Martin Luther King and Nelson Mandela.
Silva, 51, returned to her seat in the Senate when she resigned as Environment minister in May 2008 citing opposition within the government to her environmental agenda.
However Marina Silva lack of name recognition, access to television advertising or a strong track record means she will struggle to compete, analysts say. Voters may also have concerns about her past health problems. The former rubber tapper who worked her way out of poverty as a maid has had hepatitis, malaria and metal poisoning. She was hospitalized on several occasions, even as minister.
Silva trailed a distant fifth with 3% points in a survey by polling firm Datafolha released earlier this month, which showed the conservative governor of the state of Sao Paulo, Jose Serra in the lead with 37% and Rousseff in second place with 16%.
But hand picked candidate Rousseff has been tarnished by alleged corruption claims, also has health problems and the Workers Party after two terms in office is only held together by Lula da Silva's popularity.