Latinamerica turns to Europe, Russia and China for military hardware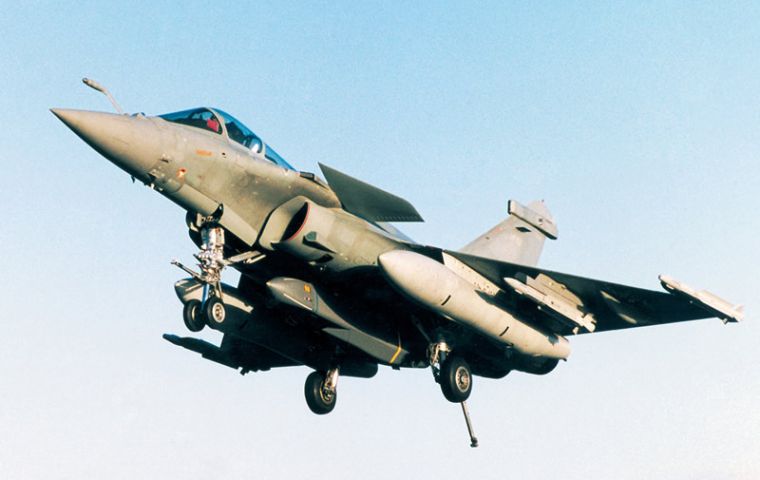 Brazil's plans to buy French fighter jets confirms a trend across Latinamerica that is based in recent history and the proclivity of US lawmakers to put political restrictions on what customers can and cannot do with their purchases.
This had convinced many Latinamerican countries that it is more reliable and less politically sensitive to acquire military hardware from Western Europe, Russia and lately from the emerging China and in the near future possibly from India.
In Brazil's case this helps explain in part why France's Rafale emerged victorious over the US F/A-18 Super Hornet and Sweden's Gripen NG, according to the planned purchase announced on Monday; plus the 9 billion US dollars cooperation agreement for the acquisition of submarines, one of them nuclear powered and 50 choppers.
While the Rafale was an excellent choice anyway on performance criteria, Brazilian officials said it was France's offer to share all of the plane's technology that really sealed the deal.
The technology behind the F/A-18 and the Gripen (which uses some US components such as the engine) are subject to approval from Washington - which has in the past vetoed any transactions with of which it disapproved.
That was the case under President Jimmy Carter, who embargoed military sales to South American dictatorships in the 1970s. Argentina as a result turned to Europe - buying French Super-Etendard fighters with Exocet missiles that subsequently proved so successful and fearsome for the British Task Force sent to recover the Falkland Islands taken over by the Argentine military dictatorship in 1982.
More recently, former US president George W. Bush slapped an arms embargo on populist Venezuelan President Hugo Chavez who has close relations with Iran and is accused of not doing enough in the "war on terror".
As a result, and with no spares for his US military hardware, Chavez went shopping to Russia which has proved only to happy to sell him 24 sophisticated Sukhoi fighter jets, 51 combat helicopters, missile-launchers and 100,000 AK-103 assault rifles for a total 4.4 billion US dollars. He also purchased 24 light jets from China and turbine anti guerrilla aircrafts from Brazil.
Across the rest of South America the situation is not different.
Peru although now friendly with the United States, had longstanding ties with Moscow. It has Russian MiGs and Sukhois and French Mirages in its air force, German submarines and Italian frigates in its navy. The army has US tanks, but they are backed up by French, German, Italian, Brazilian and Russian armoured vehicles.
Even Colombia, the United States' main ally in the region, is not relying entirely on Washington, which has given 5.5 billion US dollars in mostly military aid over the past decade to fight drug trafficking and rebels.
The Colombian air force has 15 Black Hawk helicopters but its pilots also fly French Mirages (and Israeli-modified Mirages Kfirs) and Brazilian Super Tucanos for jungle warfare. Colombia is also scheduled to receive five Russian Mi-17 transport helicopters and is asking France and Germany to look at modernising its navy.
In Chile, cooperation with European suppliers goes back to the start of the 20th century with the British supplying the Navy and Air Force, and Germany traditionally the Army. Currently the Navy is undergoing a renewal process with British and Dutch frigates, French submarines and Israeli torpedo boats. The Air Force opted for F-16s from the US as part of the free trade deal signed with Washington in the mid nineties plus other refurbished F16s from Europe and French Mirages. The Army is equipped with German Leopard tanks.
The smaller countries, Bolivia, Paraguay and Uruguay have also diversified their sources of supply from the traditional US military hardware to Europe, Russia, China, Israel, Brazil and lately even Iran.
According to the Stockholm International Peace Research Institute, SIPRI, statistics, an "arms race" seems to be emerging in Latinamerican arms race, which says regional defence spending grew 50 per cent between 1999 and 2008.