Paraguay soy bean exports plunge 46% in eight months of 2009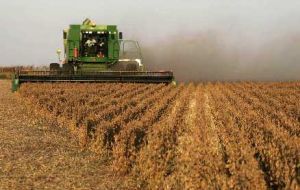 Paraguay soy bean exports have plummeted during the first eight months of the year according to official data released Wednesday in Asunción.
Soy bean sales between January and August this year totalled 684 million US dollars compared to 1.285 billion USD in the same period a year ago, which represents a drop of 46% says the Central Bank report.
Moreover the plunge in August has been even more acute, 75%, having reached 35.8 million USD, compared to 145.7 million a year ago.
The Central Bank attributes the strong contraction to the fall in global consumption as a consequence of the global financial crisis, as well as the drought that has severely punished many agriculture areas of Paraguay.