Paraguay and Bolivia agree on military expenditure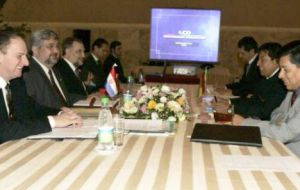 Paraguay said it was satisfied with Bolivia's explanations regarding the neighbouring country's plans to purchase arms and reinforce its military garrisons. The statement follows a Thursday meeting of the two countries Foreign Affairs and Defence ministers in Asuncion, capital of Paraguay.
"We are fully satisfied with the pertinent explanations and clarifications which our distinguished visitors have made regarding the issue and which refer to our region", said Paraguayan Defence minister Luis Barreiro.
The meeting took place in the framework of the bilateral mechanism identified as "2+2" which brings together the four ministers "to reaffirm the commitment of both governments with peace as the essential component for regional integration", said Paraguay's Foreign Affairs minister Hector Lacognata.
"I would like to emphasize the willingness from Bolivian officials for participate in the meeting and mainly because of protocol reasons it should have taken place in Bolivia", added Lacognata.
"The meeting takes place probably at the best moment, in decades, of relations between Paraguay and Bolivia" said Lacognata.
Bolivia's Defence minister Walker San Miguel said his country has yet to decide how to invest the 100 million US dollars cooperation loan extended by Russia for the reinforcement of the country's defence system, but "much will depend on what Congress decides and the country's capacity to accumulate debt".
Bolivian Foreign Secretary David Choquehuanca said that "at no moment the strengthening of our Armed Forces has been thought or geared for aggression" to our neighbours, but rather how "we can jointly combat poverty, terrorism and the drugs trade".
Choquehuanca recalled that the constitution establishes that Bolivia is a peaceful country which promotes the culture of peace and bans foreign military bases.
He insisted that contrary to the "ongoing campaign" Bolivia has no plans for Venezuelan military bases in its territory or Iranian military advisors.
However Defence minister Walker San Miguel admitted very close military links with Venezuelan Armed Forces.
Landlocked Paraguay and Bolivia were involved in the so called Chaco war, between 1932 and 1935. Supposedly the disputed arid area held significant oil deposits, which until today have not been confirmed.