Repsol makes huge natural gas discovery offshore Venezuela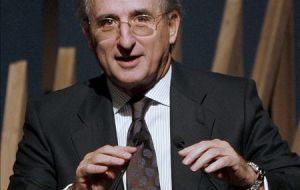 Spain's biggest oil company Repsol-YPF announced on Friday the discovery of a Venezuelan gas field containing as much as 8 trillion cubic feet of fuel, equivalent to 1.2 to 1.4 billion barrels, one of the world's largest finds.
The field's potential gas resources would be enough to supply Spain for more than five years, the company said Friday in an e-mailed statement. Venezuelan President Hugo Chavez and Repsol CEO Antonio Brufau discussed the find in Madrid, the company said.
Repsol wants to boost oil and gas production through new finds off the coasts of Brazil and Venezuela after four years of declining output. The company is also a partner in Brazil's Guara oil field, which may contain 2 billion barrels of oil.
In the development phase of the field, known as Cardon IV, Venezuela's state-owned PDVSA will have a 35% stake in the project, with Repsol and italy's Eni retaining a 32.5% stake.
The actual drilling at "Perla I" is offshore to the west of Venezuela in 60 metres deep waters. Repsol has been working in the area since 2006. The gas bubble is believed to cover a surface of 33 square kilometres with a depth of 240 metres.
Venezuela has 174.9 trillion cubic feet of natural gas reserves, the largest in South America. The country holds 2.6% of the world's proved natural-gas reserves in 2008, or the world's ninth-largest reserves, according to BP Plc.
Most of the country's gas can be produced in combination with crude oil. Venezuela's oil production has declined since 1998, prompting it to import gas from Colombia. Venezuela is seeking to expand gas output and become an exporter of liquefied natural gas, or LNG.
President Hugo Chavez is currently at the end of a world tour of several countries, inluding Iran and Russia, and on Friday met with President Rodriguez Zapatero and King Juan Carlos.
Chavez is quoted by the Madrid press saying that at the current rate of "gas discoveries" Venezuela will soon become "one of the five giants in the world of gas".
President Chavez is also strongly lobbying other gas producing countries such as Russia to create the equivalent of OPEC.