French unions against military technology transfer to Brazil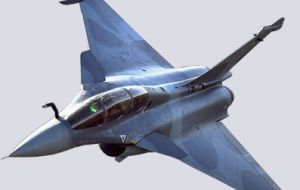 French unions are not pleased with the transfer of military technology to Brazil recently agreed between presidents Nicholas Sarkozy and Lula da Silva, according to press reports.
"There's something which troubles us in this contract and is the fact that Brazil wants to have its own military air industry and that the agreement with Dassault, the French government and the Brazilian government includes the transfer of technology", said Dominique Richard, a workers union leader from Dassault Aviation, France's main aircraft manufacturer.
Dassault designed and builds the Rafale fighter-bomber which France is prepared to sell to Brazil.
On signing a major military hardware agreement with French president Sarkozy, Lula da Silva said he was inclined to choose the French fighter Rafale because France is prepared to transfer sensitive technology and would also allow them to be assembled in Brazil.
Brazilian Foreign Affairs minister Celso Amorim also revealed that France is prepared to authorize the sale of those aircrafts to other Latinamerican countries.
Meanwhile Brazil will continue to consider the French offer for the Rafale, together with Boeing's F-18 Super Hornet and Sweden's Saab, Gripen.
Union leader Richard told Folha do Sao Paulo that the agreement threatens Dassault Aviation jobs in France.
Brazilian Defence minister Nelson Jobim has repeatedly said that with French technology, Brazil plans to become the leading military hardware manufacturer in Latinamerica with the largest military-industrial complex in the region.
However from France, Dassault in an official statement denied that the military cooperation agreement reached between France and Brazil, which includes submarines and helicopters, would have a negative impact on French jobs, underlined Dassault.