Street crime, damages and hundreds arrested in Chile on coup anniversary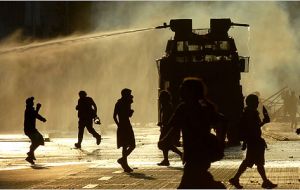 This weekend's "demonstrations" commemorating the 36th anniversary of the 9/11/73 military coup in Chile that toppled the Socialist government of President Salvador Allende left three dead, 19 policemen wounded, more than 200 arrested and millions of pesos in property damage.
Although protestors supposedly acted in response to the 9/11/73 coup anniversary date, police said the three deaths stemmed from the violence that had no relation with the 1973 coup. Instead, said the police, September 11 served as an excuse for Chile's disadvantaged youth and gangs to turn on each other.
"These kinds of actions are tied to the underprivileged – people who are social parasites that destroy and loot the places where they live" said Undersecretary of the Interior Patricio Rosende.
The Undersecretary was referring to the less affluent parts of greater Santiago – the boroughs of Recoleta, Cerrillos, Cerra Navia, Quinta Normal and others.
Confrontations began early Friday in Santiago's Recoleta borough when two rival drug gangs clashed at around 2 p.m., opening fire between neighbourhoods in Los Heroes de la Concepción and Escritores de Chile. The gang-related clash lead to the night's first casualty: Alexis Rojas Garcia, 23, who died from two gunshot wounds to the head.
Police said gang members impeded the arrival of a life-saving ambulance and that the amount of weaponry used by battling gangs – including a shotgun - was greater than normal. Garcia's death was followed by two other fatalities that Carabineros said were not related to clashes with police.
In addition to neighbourhood violence and looting, some demonstrators took to Cerro Navia streets with Molotov bombs and seemed to receive support from local residents.
In the Cerrillos borough, 20 protestors barricaded the main avenuje, two individuals set fire to a stolen car and shot off rounds at the protestors, killing Jonathan Acevedo, 19.
Interior Undersecretary Rosende reported that both clashes appeared to be drug-related gang activity: "These people died, but their deaths were distinct from events linked to political protests and barricades."
The third fatality was 17-year-old Francisco Toro Fuentes, who was allegedly shot by a minor during a riot involving 30 people, the majority of whom were underage.
Shots were also fired at a Carabineros helicopter in Quinta Normal during a rescue mission.
Santiago businesses lost millions Friday as looters descended on supermarkets and gas stations. Fifty people stole more than 36,000 US dollars from Fundacion Rodelillo, a non-profit foundation that supports families located in the La Granja borough.
Chilean officials threatened strong sanctions against suspects involved in robberies or in damage to public property. Santiago was the epicentre of the violence, but protests and violence also occurred in other cities such as Valparaiso, Concepcion and Temuco, where students and environmentalists attacked government buildings.
Overall, there were more arrests this year (206) than in 2008 (160), but police said attacks this year were less violent.
Four peaceful, politically related commemorative events took place over the weekend to remember those disappeared, tortured and murdered during the 1973-1990 military government under Gen. Augusto Pinochet.
By Amanda Woodruff - Santiago Times