Argentina, a country of "paranoiac reactions", and the Kirchners, "what a gang"
Friday, September 18th 2009 - 06:11 UTC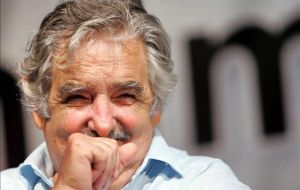 "The Kirchners are lefties, but what a left, mamma mia, what a gang!" and Argentina is a country "of hysteric, mad, paranoiac reactions". The comments belong to Uruguay's ruling coalition presidential candidate, Jose Mujica and whom opinion polls show him comfortably ahead for next October's election.
His remarks have been published in a book with a collection of interviews on different issues by a Uruguayan journalist who for several months met every Monday morning with the former guerrilla leader "Pepe" Mujica to talk about politics.
"Pepe Colloquies" has triggered a chain reaction in neighbouring Argentina and not at a very advantageous moment: the Kirchners are struggling to survive, Uruguay and Argentina are facing each other at the International Court of Justice and the book has brought memories of a similar incident only seven years ago with then Uruguayan president Jorge Batlle.
Following an interview with a US news television team and when Argentina had decided to default on its sovereign debt (2002), former president Batlle tells his interviewer, "get this very clear, Uruguay is not Argentina; in Argentina from A to Z, all of them are crooks; don't you dare compare Uruguay with Argentina". Suspiciously the journalist had not turned off the camera and a few hours later it was in the air.
Batlle had to travel to Buenos Aires to personally, and before tens of cameras, apologize to then Argentine caretaker president Eduardo Duhalde for his comments, which not surprisingly opinion polls in Argentina said the Uruguayan leader was not that wrong.
Mujica describes former president Carlos Menem as a "mafia man" and a "thief"; calls the Argentine opposition Radicales as "good intention idiots"; argues that farm leaders and the government of the Kirchner couple are fools and that the ruling Peronists when in the opposition make "life impossible" to any elected government.
The Uruguayan presidential candidate also describes the ruling Peronist apparatus as a "territorial system with feudal lords, very strong" without whose support any Argentine ruler is "lost", because they are "the real power in Argentina".
The comments do not come at an appropriate moment: Argentina is challenging Uruguay before the International Court of The Hague on the issue of pulp mills along a shared waterway: a five-year diplomatic dispute that has become increasingly sour. Moreover Mujica in a recent interview with La Nacion made some comments about Uruguayan Justice and the armed struggle of the sixties when the urban guerrilla movement irrupted which have fired fierce criticisms from the opposition.
The Uruguayan hopeful also states that Argentina "has not reached a level of representative democracy" and "institutions in Argentina are not worth a dam". But in spite of this degree of "irrationality" don't commit the mistake of thinking Argentina is a country of fools, because they have "a potent intellectuality, important thinkers, academics, and a significant degree of development in several disciplines".
Therefore "we must work to make Argentine reality intelligible" in spite of all these factors. Mujica then mentions the conflict between the Kirchners' administrations and farmers. "They tore a country apart with no rationale: fools the government, fools the farmers and fools all of them".
"They had a 25 billion US dollars soy crop and started to squabble when the sensible thing was to say, 'let's sell, let's make the money, then we fight'. No they lost 7 to 8 billion US dollars, which vanished because of the squabbling!!"
However, unfortunately for Uruguay, "(neighbouring) Argentina is a determining factor" which demands a "white gloves policy" given the incidence of Argentina for Uruguay's tourism industry, trade and financial system.
"The Buenos Aires crowd have this habit of coming to Uruguay for their summer holidays and they like the place; it's a small country similar to theirs, but more gentle, more decent, they feel more secure; the country they would like to be", points out Mujica to explain why in spite of better beaches in other destinations, Argentines prefer to come to Uruguay.
The left leaning catch-all ruling coalition presidential candidate leads public opinion polls with 44% vote intention followed by the National party with 34% and the Colorado party, 10%. Election day is the last Sunday of October, but if no candidate reaches 50% of the vote plus one, a run-off is scheduled for the end of November