China to invest 16 billion USD to develop new oilfields in Venezuela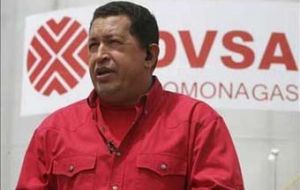 Venezuelan President Hugo Chavez announced Wednesday that China will invest 16 billion US dollars to boost oil production in the country particularly along the Orinoco River, as part of a strategy to reduce dependence on the US market.
A Venezuelan commission is meeting with Chinese officials, and the deal to develop the block with state oil company Petroleos de Venezuela SA, PDVSA, should be completed in October, Chavez revealed in comments on state television.
The latest deal with China, which will occur over three years, comes on top of a joint venture agreement with a group of five Russian companies announced last week to develop the Junin 6 field for an investment of 20 billion US dollars.
Chavez said that output from the Russian and Chinese projects in the Orinoco oil fields combined will produce 900,000 barrels of crude a day.
"Yesterday after intense days of negotiations in Beijing, an agreement was made with China to invest 16 billion USD over the next three years," Chavez said. "Adding the deals with Russia and China there will be investments of 36 billion to produce with our partners."
He added that PDVSA will work with Chinese oil companies to build rigs and platforms for the Orinoco projects, he said.
Orinoco oil is known as heavy crude for its tar-like consistency, and must be upgraded. In 2007 Chavez seized operating control of joint ventures in the Orinoco, prompting Exxon Mobil Corporation and ConocoPhillips, the first- and third- largest US oil producers, respectively, to seek arbitration.
Venezuela sent an average of 385,000 tons of fuel oil each month to China in the first half of 2009, up from the previous record of 380,000 tons a month in the first half of 2007.
Chavez visited China in April and met with China National petroleum Corp, CNPC, and China Petroleum & Chemical Corp. to seek financing for oil projects.
CNPC has a minority stake in the Petrocaracol joint venture, which operates oil fields in Venezuela, and is certifying reserves in the Junin 4 area of the Orinoco belt.