Spain proposes strict fisheries sustainable management rules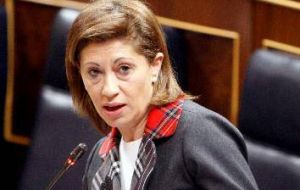 Spanish Minister of Environment and Rural and Marine Affairs (MARM), Elena Espinosa reiterated her government's commitment to ensure the sustainability of marine resources and deemed it "crucial" to forge "rules of the game" that ensure "a sustainable management" in the international arena.
Espinosa made the statements during the opening of the First World Summit on Fishing Sustainability, in Baiona, Pontevedra, with the participation of fishing ministers from more than 43 countries, and delegations from 50 States that include international organisations, scientists, and representatives of the fishing industry.
During the opening ceremony of the Summit, Espinosa underlined the importance of implementing a multilateral action to improve coordination, cooperation and fishing management mechanisms in all countries.
Additionally she stressed the need to halt the over-fishing of some resources and the degradation of certain marine areas of high environmental value. For Ms Espinosa it is essential to have a new fishing management model, beginning with four key points: Ecosystem-based approach; Fight against illegal, unreported and unregulated (IUU) fishing; Improvement of governability and Execution of responsible fishing and trade.
It is also vital that countries, community and international entities, and economic, scientific and social agents tied to the world of fishing arrange and share precise information, data surveys, projection analyses and the assessment of consequences to establish joint and common actions, she said.
In Espinosa's opinion, the first world summit can be a point of inflection to explore, define and decide a new global direction that illustrates the future of fishing for years to come.
The Galician councillor of Marine Affairs expressed her desire that this world symposium allows the sector "to find a favourable route" to resolve the "crossroads that have opened for fishing". She was sure that this encounter "would clarify and help in the search of a sustainable future for our seas, our fishers and their activities."
The First World Summit on Fishing Sustainability takes place under the umbrella of the World Fishing Exhibition in Vigo until 19 September. (FIS).-